Bengali wedding outfits are traditional and bright. There are a lot of accessories that complete the bridal look of a bengali couple. Here are a few essentials: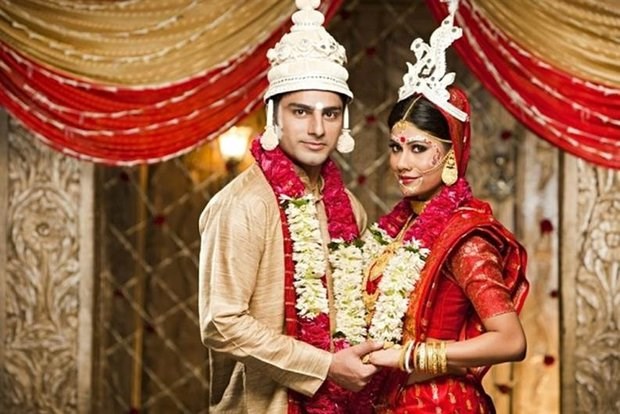 Panjabi and Dhoti
The kurta worn by the groom on his wedding day is called Panjabi. While most grooms prefer maroon, you can choose any color for the Panjabi. This outfit is usually made of silk. You can choose intricate work on it, embellished buttons etc. to make the outfit grander. This is paired with a Dhoti, usually made of muslin or Bengali handloom.
Jor
Jor or Jodh is a silk scarf draped over the groom's neck. During the wedding ceremonies, the Jor is tied with the bride's sari as they walk around the holy fire.
Topor and Mukut
For the wedding ceremonies, both the bride and groom wear elaborate headgears. Topor is the traditional headgear worn by the groom. This is shaped like a cone and is made of shoal with intricate details carved on it. While most grooms prefer white or off-white as the choice of color for the Topor, these days various other color choices are also available.
The bride wears a crown like headgear, also made of white shoal wood. This headgear is also made with intricate designs on them and is usually white in color.
Red Benarasi sari
A red Benares sari is the traditional bridal outfit of a Bengali bride. This is usually with intricate details and a zari border. The bride pairs it with complimenting gold jewelry to complete the bridal look.
Shree
This is a small structure which is belied to bring good luck and the blessings of goddess Laxmi. It is usually made of Flour, Oil, Turmeric, Vermillion etc. and placed on a brass plate.
Gaach-Kouto
This is a wooden structure carried by the bride through most of the ceremonies to ward of any evil. This structure is usually painted red and decorated with intricate designs.
Shankha-Pola
On the wedding day, the bride would be seen wear a red bangle made of coral and a white bangle made of conch shells. This is of deep significance to a Bengali bride and is always worn by the bride even after the ceremony.
Intricate forehead designs
Bengali bridal is not complete without the intricate designs made on the bride's forehead. These chandan designs can vary according to your preference. The designs are usually drawn on with a fine brush using colors such as yellow, red and white.
The groom also sports a much simpler version of this chandanbindis on his forehead, usually limited to plain white dots.
LajjaVastra
The groom gifts the bride a sari right after the sindurdaan, which is usually draped over the bride's head afterward. This sari is referred to as the LajjaVasta. The bride can choose to change into this outfit for her reception.