7 Fascinating Bathroom Fittings To Consider For Your Home!
In this age of high-tech smart phones and robots that work like humans, bathroom fixtures are also progressing to meet the rising expectations of people. Gone are the days where a rain shower was looked at with fascination. The market is now full of futuristic bathroom fixtures that are sure to inspire you.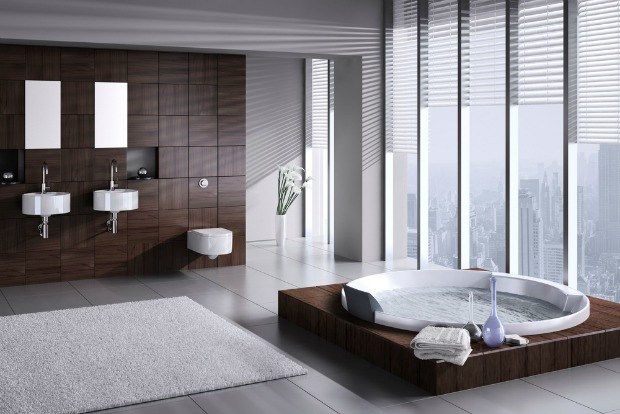 Here are 7 such fixtures that you can consider for your new home!
Smart showers
From maintaining the perfect water temperature to interactive entertainment systems inbuilt in the showers, the latest smart showers are a class apart. It can be linked to a mobile app which will give you stats on the amount of water used. These advanced showers are now providing a spa like experience to its users.
Digital electronic faucets
These faucets, with inbuilt sensors, detect the user and controls the temperature to the preferred one of specific users. It also has fascinating LED lights and touch screen displays to monitor outside temperature.
Water conservation sinks
This eco-friendly sink collects used water and filters it for reuse. These sinks have a pond like fixture fitted to it that fills up excess water and filters it with a Nano filter. In present times, with conserving natural resources being a big issue, such bathroom fittings seem to be the need of the hour.
Florescent plumbing fixtures
These fluorescent rimmed fixtures are perfect to guide you on your bathroom visits at night. They are not glaring at sight and remain subtle when there is light. However, when it gets dark, it gives out fluorescent lights to guide you.
Virtual reality showers
If you are the type to make your life decisions in the shower, then this virtual reality shower system is for you. These showers project a virtual reality scenario on the thermal glass and takes you to another world. With soothing lights, these showers are sure to elevate your bathroom to another scale. Kindle your senses with these fittings and experience a lavish shower!
In-built hand dryer faucets
The regular faucets are now optimised to work as a built-in hand dryer as well. This faucet has a small motor attached to it that blows out a strong gush of hot air right after the water stops. Not only does this save space by cutting down on one additional bathroom fitting, it also improves the hygiene element in the bathroom.
Touch screen taps
From temperature management to controlling the amount of water to be used, these taps let you do all this and more with the help of a simple touch! Till a few years ago, we considered sensor enabled taps to be ultra modern. In comparison to that, this hi-tech bathroom gadget is fascinating to say the least.
While some of them gadgets might seem futuristic and not easily adaptable, with the help of expert plumbing services, most of these can be installed in our homes. Get the help of the best in the city and give your bathroom a modern upgrade!