Weddings are grand affairs across India. The customs and ceremonies might vary, but a striking, bejeweled bride is always seen at an Indian wedding regardless of the caste or region. A Marathi bride is no different. The bride and the groom go out of the way to get the best clothes for themselves to look their best on this day.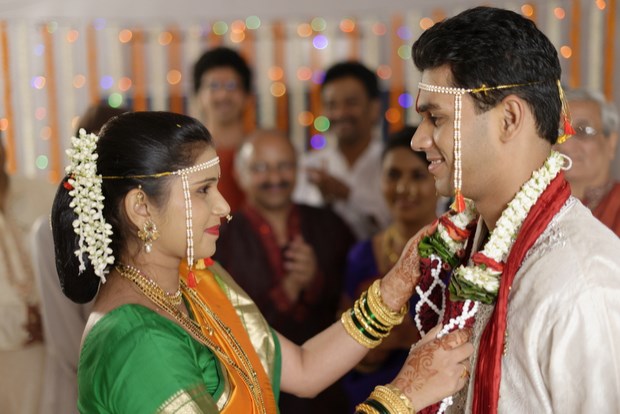 Here is a look into the wedding outfits sported by the bride and groom:
Bride
Sari: Nine yards Pathani sari is the traditional outfit of choice for a Marathi bride. This sari is usually draped in the traditional Marathi style on their wedding day. Green is the most common color chosen for this sari. Kanchipuram silk, Benarasi silk etc. are also popular choices for saris. The Nauvari sarees are also a traditional drape picked by a Marathi bride. The Marathis belief that a fully dressed up bride is almost like an avatar of Goodness Parvati.
Jewelry: Moongachimaal, lakshmihaar, ghalsari, rudrakshamaal etc. are popular jewelry designs worn by a marathi bride on her wedding day. It is also popular with them to wear traditional, heirloom pieces. Other than these necklaces and earrings, the nath or the traditional nose is a statement jewelry worn by a Marathi bride. If the bride does not have a piercing, clip on rings are also used as Naths. This striking nose ring is set with diamonds or pearls.
Once the bride is married, she wears a mangalsutra as a sign of being a married woman.
Hair accessories are also popular with the marathis. The ambada or the jeweled hair clip is usually attached to the bride's bun. An accessory made of pearls is tied on the forehead of the couple, with its ends hanging down near the ears.
Green bangles in odd numbers, toe rings, etc. are also popular accessories of choice for a Marathi bride.
Groom
The groom is usually dressed in a smart white or off-white kurta with a dhoti bottom. Other light shades are also chosen by the groom for his kurta. He also drapes a shawl or stole around his neck. For the formal ceremonies, the groom might also wear an off-white Nehru cap to complete his look. A Marathi groom also wears a string made of pearls around his forehead just like the bride.