Gujarati food is predominantly vegetarian. However the spread will be vast, including elaborate starters, live counters, variety of rice and desserts. The flavours of the Gujarati cuisine is distinct with a predominant sweet taste. Potato is a favorite with these people and every wedding menu is sure to have lots of potato based dishes. A full Gujarati wedding meal includes Bhat or rice, Rotlo, a variety of breads, Dal, Subzi, Farsn or side dishes, Mithai, Nasta and other basic sides such as chutneys and Raitha.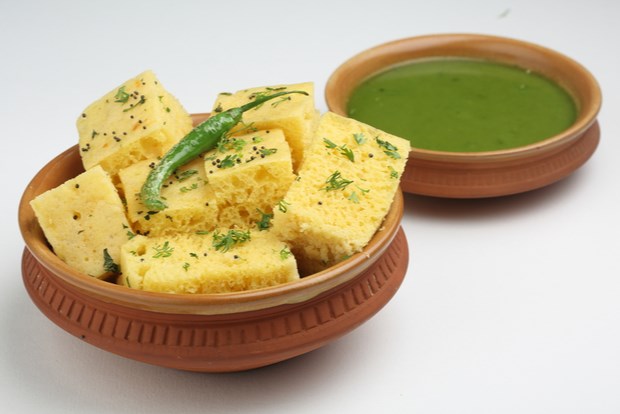 Here are some mouthwatering delicacies you can't miss at a Gujarati wedding:
Dhokla: Live Dhokla counters are a common sight at most Gujarati weddings. This steamed starter is served with chutneys on the side and is delicious as well as healthy.
Dabeli: This is a stuffed bread side dish that is spicy and full of flavours.
Handavo: This is a healthy starter dish, which is usually baked. It is made of a combination of dals and can include vegetables and sesame seeds to add more flavor.
Pakodas: A variety of Pakodas and Kachoris are served made of green peas, methi etc. Both are deep fried and snacked on as a starter.
Paatra: This is yet another starter which is popular with the Gujaratis. It has sweet, spicy and salty flavors made with Colocasia leaves and chickpea flour.
Rasawala Bateta: Aloo, Gobi, and Paneer are popular with these people. This particular dish is a spicy and made with aloos. It has a thick red gravy base and is generally served with Indian breads.
Bharela Bhinda: Stuffed Okra is a popular side dish that is spicy and salty. The fillings for this dish can vary according to your preference.
Dal: The traditional Gujarati dal is spicy and sweet, and is made with toor daal. It is served with a rice dish. However, dal in various preparations might be served at weddings.
Aamras: Mangoes are a favorite during the summer season. Aamras is a delicious dessert made especially during summer weddings.
Shrikhand: This creamy dessert cannot be done without at Gujarati weddings. It is served on its own as a dessert or garnished with dry fruits for additional flavor.
If you are planning a wedding in the family or attending one soon, don't miss these specialty delicacies from Gujarat!