The food served at a Kanndiga wedding varies based on different communities and regions in the state. Depending on these influences the food can be vegetarian or non-vegetarian. The Coorg area is popular for spicy pork dishes and the Mysore area is popular for sweets such as Mysore Pak, Obbattu, Chiroti etc. The traditional Kannadiga meal is served on a banana leaf. Salt is served first followed by pickles, raita etc. and then the dessert, which is usually the popular Paaysa. A Kannadiga meal begins with a dessert. Ghee is served last in the order with the meal beginning only after everyone has been served ghee.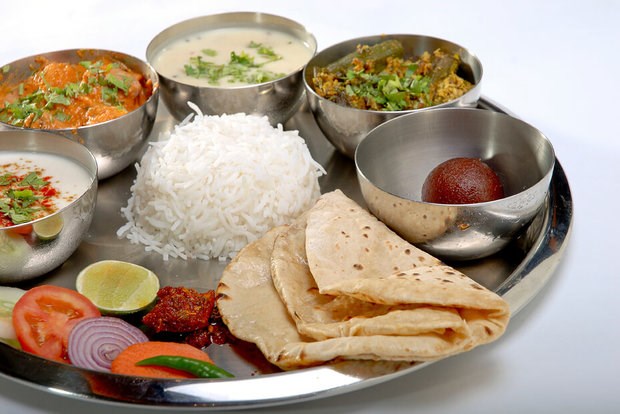 Here is a common, traditional meal accepted across the regions:
Rice dishes
BisiBebe Baath, Vaangi Baath, Nimbekaayichitrannaetc. are popular rice dishes made with spices, vegetables etc. BisiBele Baath is a meal in itself cooked with vegetables and spices.
Breads
RagiRotti, AkkiRotti, VarietyDosas, Gunpongalu, etc. bread varieties served lavishly at kanndiga weddings. These dishes are generally healthy as well as tasty.
Chutneys
Chutneys based on coconut, green mango, dal etc. are served during a meal. These chutneys provide sweet, tangy and spicy flavors to the meal.
Payla
Payla or the side dishes are mainly vegetables stir fries made of lentils, potatoes, ladies finger etc.
Kosambari
This is a simple salad preparation, unique to the Kannadigas. Lentil, green chilies and vegetables are mixed together with tempered mustard seeds to create this salad.
Sweet and Spicy Dishes
A Kannadiga wedding meal always includes some tangy and spicy dishes to neutralize all the flavors. These dishes are made with jaggary, tamarind, tomatoes etc. for these flavors.
Saaru
The main course usually includes dishes such as Huli, Tovve, Bas saaru, Maskai etc. which are rich vegetables dishes made with choices of vegetables, yogurt, spices, etc.
Sweets
Sweets are an integral part of any wedding meal. Same remains the case with Kanndigas. Paayasa made of various ingredients, Unde or ball shaped sweets made of various ingredients, Huggi, Obbattu, Mysore pak, Chiroti, etc. are popular.
Pickles
A pickle counter cannot be done without at a Kanndiga wedding meal. Spicy ones to salty pickes, there are various varieties offered here. The taste of these pickles are different from the pickles made in the north of India. Raw mango, Nellikayi, Tomato, Meat etc. are pickles using Green Chilli, Red Chilli, Pepper, Coriander Powder etc.
Other than these items, snack such as Bonda, Bajji, etc. are also included in the menu according to the families' preferences. With the help of a good wedding caterer, you can have a delectable spread of Kannadiga food for your big day!