Ayudha Pooja 2021: Top Dishes to Prepare on This Festival
Every year, the 9th day of Navratri is celebrated as Ayudha Pooja or Saraswathi Pooja. The festival is dedicated solely to the goddess Saraswathi, who is worshiped to pour immense knowledge and wisdom. The students also worship by lining up their books decked up with Santhanam and Kumkum. Likewise, work-goers and entrepreneurs offer prayers to goddess Saraswathi by decking up their working tools.

On this auspicious day, people also prepare special sweets and dishes. These food varieties will be dedicated to the goddess Saraswathi as a form of gratitude. Usually, people prepare recipes like payasam, medhu vadai, black channa sundal, Suyyam, etc. A festival is all about sharing love and food with your loved ones. If you want to host your guests with lip-smacking recipes, book the professional Event Caterers registered with Sulekha.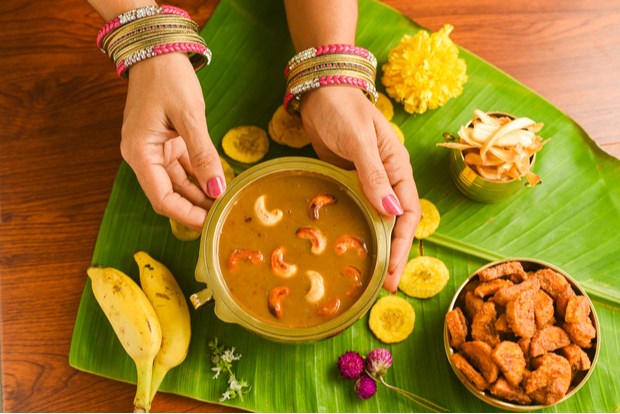 Here are some of the basic recipes that are prepared for the special day:

Paruppu Payasam:
Paruppu Payasam is one of the common sweets prepared in south Indian households. Another sweet which is more or less the same is moong dhal pradhaman. The significant difference is that the latter is made of coconut milk. Also, a traditional payasam is made of jaggery. It is easy, delicious, and healthy.

Directions to cook:

In a hot pan, pour ghee and fry cashews until they turn golden and keep them aside.
Fry the coconut pieces using the same method and keep them aside too.
Fry the moong dal with the remaining ghee.
Boil the dal in a pressure cooker and leave it until 2-3 whistles and post that roughly mash them.
In the sideline, melt the jaggery and keep the mixture ready.
Add the jaggery syrup to the cooked dal, stir in low flame, add thick coconut milk, and mix it well.
Let it come to a single boil and switch off the heat. Add roasted cashews, raisins, and coconut pieces.
Serve hot, warm, or cold.
Kondakadalai Sundal:

Sundal is a famous south Indian recipe cooked in households and temples as well. It is also prepared during Ganesh Chathurthi, Navrathri, Saraswathi Pooja, Diwali, etc.

Directions to cook:

Rinse and soak the chickpeas in water and leave it overnight.
In the morning, drain the water and pressure cook the soaked chickpeas. While doing this, add 1 tsp salt and 3 to 4 cups water till they are cooked till soft.
After whistles, dry them and keep them aside to make a perfect Channa Sundal
In the sideline, heat oil in a pan. Add the mustard and urad dal.
The mustard seeds will crackle, and the urad dal will get browned.
They almost take the same time to cook on a low flame.
Immediately, add the curry leaves, red chilies, and asafoetida. Fry for 10-15 seconds.
Now add the cooked chickpeas and salt. Stir and saute for 4-5 minutes on a low to medium flame.
Switch off the flame and add the coconut. Stir well.
Serve the channa sundal as prashad or naivedyam.
Saraswathi Pooja is just two days away, and we know you are gearing up to welcome the fest by cleaning your home and getting confused about what dish to prepare. However, you can leave it to us by choosing the top Event Caterers near you through Sulekha.