Punjabi weddings are a filled with many days of celebrations, music and dance. Good food is a must have to go with all the celebrations.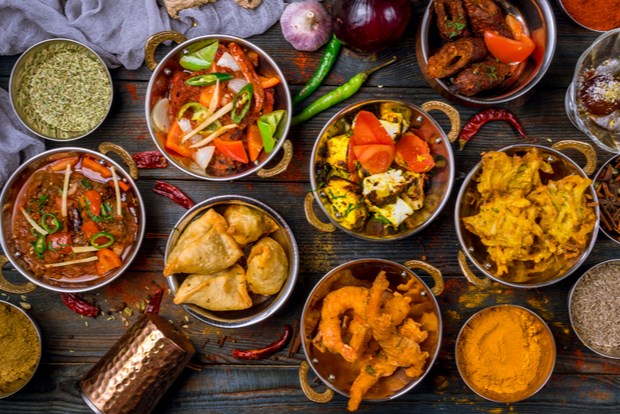 Here are some of the popular dishes you'd taste at a Punjabi wedding:
Chaat
Live Chaat counters are a popular sight at Punajbi weddings. From the crunchy Papdi Chaat to the tangy Dahi Bhalle chaat, you shouldn't miss this delicious counter while at a wedding.
Aloo Gobhi
This delicious dish made of potatoes and cauliflowers is mildly spiced with Indian spices. Turmeric and Kalonji are also added to add to the flavor.
Dal Makhni
Dal Makhni, rich in butter or cream cannot be done without at a Punjabi wedding. Another popular variety of dal dish is the Punjabi Dal Tadka.
Paneer Tikka
Served freshly cooked, and piping hot, this healthy and delicious dish is every guest's favorite and hence cannot be done without. Paneer in itself is a Punjabi favorite and cooked in multiple ways to include in the spread.
Chicken Tikka Kabab
Amongst the non-veg dishes, these delectable Murgh Tikka Kababs are preferred over any other dish served. If cooked freshly and served hot with mint chutney, you would see a line forming in front of this counter for sure!
Butter Chicken
Butter Chicken is a universal favorite and is considered as the flag bearer of Indian food across the globe. This buttery, melt in the mouth Chicken dish has a big fan base in Punjab as well and is sure to be spotted at the weddings.
Naan
Naan is an Indian flatbread made on the tawa. Naan, along with Rotis and Parathas etc. are the popular breads found at the wedding reception.
Karhai Chicken
This is a specialty dish made with popular Indian spices in a wok. This spicy gravy dish is great as an accompaniment with the Indian breads.
Jalebi Rabri
It is the taste of desserts that lingers in the mouth of the guests for long. Hot Jalebis served with rich Rabri is a sure winner at weddings.
GajarKaHalwa
A good helping of this delicious sweet is going to leave the guests asking for more. If you want the guests to leave the venue with only great things to say about the wedding, don't miss this dessert.