Expert Interview: Here's Why Onam Sadya is a Healthy and Balanced Meal
Every year, Malayalis celebrate the traditional Onam festival in a grand gesture. Apart from filling your home with the fragrance and elegance of flowers and the authentic history behind it, Onam's most important aspect is Onam Sadya – a feast that has 26 dishes that Malayalis share with their friends, family and relatives. The feast is not only delicious and stomach-filling, but they also have several health benefits.

Though Indian food and thali are known for being one of the healthiest cuisines in the world, Onam Sadya reserves a special place in it. The South Indian thali is prepared in an Ayurvedic way.

Onam is just a week away, and if you are a Mallu, we are sure you can't wait to savour your favourite Sadya at home. On that account, Sulekha had a candid interview with celebrity chef Soundararajan. The chef is a Malayali himself shares his fond memories with Onam Sadya, the health aspects, and more.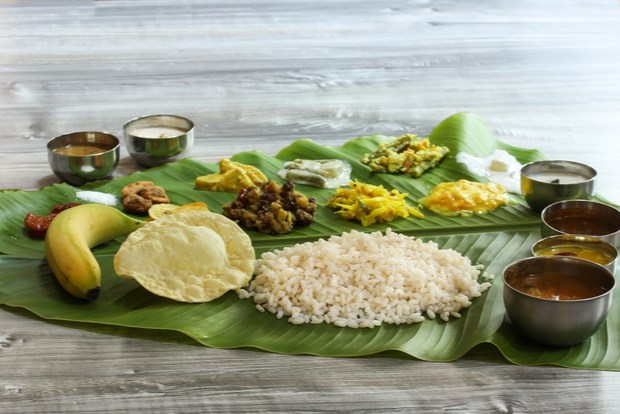 Excerpts from his interview:
1. What are all the typical items that take place in Onam Sadya?
Rice – Mostly the Kerala Red rice
Chakkara Upperi – Banana chips along with jaggery
Kaaya Varuthathu – Dried banana chips
Paruppu – A thick dal gravy that is usually served with a spoonful of ghee
Sambar – A spicy lentil mixed with a wide range of traditional vegetable
Aviyal – A side that goes with spicy gravies. Made of several boiled vegetables and a lavish sprinkle of coconut
Kaalan – A curd-based thick and sour gravy
Olan – A not-so-spicy side dish and coconut milk-based side dish
Erissery – A side dish prepared with dry-roasted coconut, raw banana, and black gram
Kichdi – A mixture of curd, ground coconut, and cucumber or beetroot-based side dish. It is a little spicy
Pachadi – A sweet dish based on coconut usually paired with pineapple or grapes
Puli Inji – A combination of ginger, tamarind, and jaggery
Thoran – A mixture of finely chopped vegetables with a lavish sprinkle of grated coconut
Thayir – A thick curd or yogurt
Rasam – A tangy, spicy, and a tamarind-based watery gravy
Pappad – The crunchy pappad that is famous all over India
Javvarisi Payasam/Paruppu Payasam – This is a delicious dessert one should never miss
Achaar – A mango or lemon pickle
2. How is Onam Sadya considered a healthy and balanced meal?

The Onam Sadya dishes are a complete nutritional package. While the rice and lentils provide the required carbohydrate intake, the boiled seasonal vegetables give us the essential organic nutrients. Especially, Avial has an excessive fiber content. Besides, the Kaalan and pachadi, primarily made of yogurt or curd, do their job to soothe the heavy intake.

3. What is the purpose of Chakkara varatti?
The dry dish performs several wonders in your body. The jaggery and ginger increase the hemoglobin count in your blood. It can also be served as a snack with evening tea/coffee.

4. What is the importance of Puli Inji?
Puli Inji is usually served in a small amount, but its role is enormous. It brings out the most harmful toxins in the human body and cleanses your liver. Besides, the combination of tamarind and ginger is the best medicine to boost your digestive tract.

5. What are your fond memories of Onam?
Being a Malayali, Onam is so close to my heart, and my mother's preparation of Onam Sadya will be my forever favourite. After my schooling, I came to Chennai to pursue my higher education, and I vividly remember how my hostel friends and I used to long for Onam Sadya. It is a delicious treat for your stomach, especially for those who grew up with hostel food like me. More than the taste, the love, and care born while sharing the food, mugging the correct order of items that should go on an Onam Sadya leaf, setting your stomach to finish up all the things are all the special memories one could cherish all their life.

We hope you understood the health benefits and importance of traditional Onam Sadya with the help of star chef, Soudararajan. If you can't prepare a tasty Onam Sadya but would love to share one with your friends and family, then share your requirements with us and get connected to Professional Caterers in Sulekha. Get set to savour the mouth-watering Onam Sadya.