Ganesh Chathurthi 2021 - How to Prepare Delicious Kozhukkattai?
Who doesn't like sweets and snacks? Especially when it savors deliciously and leaves a happy stomach. Ganesh Chathurthi 2021 is around the corner, and we can't wait to taste our mom's, unique handmade sweets. Kolukkattai (a sweet dumpling made of rice dough) is predominantly famous across India. The official 'Kolukkattai season' has kickstarted as we are about to celebrate the auspicious Ganesh Chathurthi or Vinayakar Chathurthi 2021. There are various other sweets on a Ganesh Chathurthi platter that we can't wait to share with you.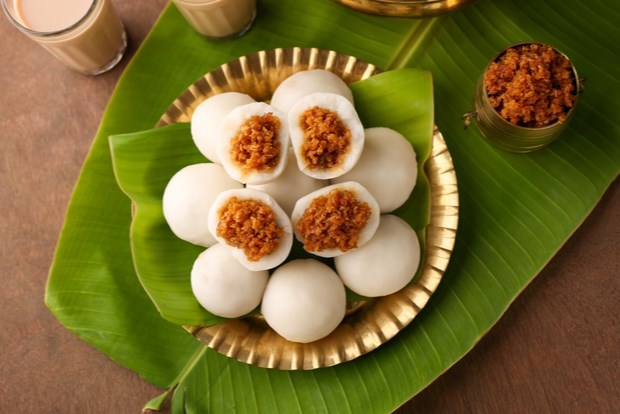 Before that, if you don't get to chance to visit your home or if you are mounded with commitments, you might miss the Ganesh Chathurthi feast. But no! Sulekha is not going to let you down. Visit our professional catering services page and book your Ganesh Chathurthi feast dinner to savor the traditional sweets and dishes along with your friends and relatives.
Meanwhile, let's check the most popular kozhukkattai recipe to prepare for Ganesh Chathurthi 2021.
Kozhukkattai or kolukkattai is a famous South Indian sweet of steamed dumplings. The covering is made of soft rice dough, and the fillings will be a mixture of jaggery and coconut. In North India, it is called Modak. During Ganesh Chathurthi or Vinayaka Chathurthi, these sweet dumplings are offered to Lord Ganesha. However, in Modak, the fillings are mixed with certain extra pop-ups. They are sesame seeds and nutmeg powder. Let's see the making procedure:
Step 1: In a Kadai, stir grated coconut and powdered jaggery on low flame and then add half a spoon of ghee.
Step 2: Keep stirring the mixture until the coconut and jaggery forms a mixture.
Step 3: The jaggery will melt, and at this juncture, add cardamom powder.
Step 4: Stir and cook it until the mixture goes dry. But do not leave till it goes hard.
Step 5: Keep the mixture aside.
Step 6: In another pan, sprinkle the ghee and boil 1.5 cups of water followed by the addition of salt.
Step 7: After the water boils, lower the flame and add rice flour slowly.
Step 8: Stir instantly and leave them after a nice mix and switch off the stove.
Step 9: You will have the soft rice dough.
Step 10: Knead them nicely and allow them to rest for some time. You can start making balls after this.
Step 11: Once they are ready, you can take them one by one, flatten them in a circular shape and start filling the jaggery and coconut mixture.
Step 12: Carefully close them so that the stuffing doesn't fall out.
Note: There is no particular shape for a kolukkattai. It can be round, palm-finger shaped, bell-shaped, etc. There are also kolukkattai makers available in the market to bring out a perfect shape. All you have to do is grease the maker with ghee, fill the kolukkatai and close them. You will get an ideal kolukkattai shape. They are ready for steaming now.
Step 13: Take the steamer with at least two to three plates. Add at least 2 cups of water to it. Cover the base with plantain leaves and place the dumplings in a good space. Cover them with a thin white cotton cloth.
Step 14: Cover the pan and allow them to steam at low to medium flame for 15 minutes.
Step 15: Remove the lid after 15 minutes and sprinkle a spoonful of ghee before taking it down and you are ready to taste the plump and sweet dumplings.
Are you too tired to do all these but would still love to gulp down some? We have a solution. Sign up with Sulekha to come across some finest professional caterers to serve your Ganesh Chathurthi feast.
Sulekha wishes you a very happy and warm Ganesh Chathurthi 2021.