Top 5 Cleaning Hacks For This Christmas Eve
Get your home sparkle clean and stay stress-free this festive season with these useful tips.


Well, it's Christmas time now in the line of this festive season and the city is full of lights! This is the time when you spend time with your loved ones sharing delicious food, sweets, family games, shopping, baking, decorating and more. Celebrations apart, home cleaning becomes the most indispensable and a daunting task before every kind of festival. No matter what the festival is, the foremost part of the to-do lists is cleaning and setting your home for the celebration. It is, indeed, essential to welcome all your friends and family with a sparkling bright and clean home.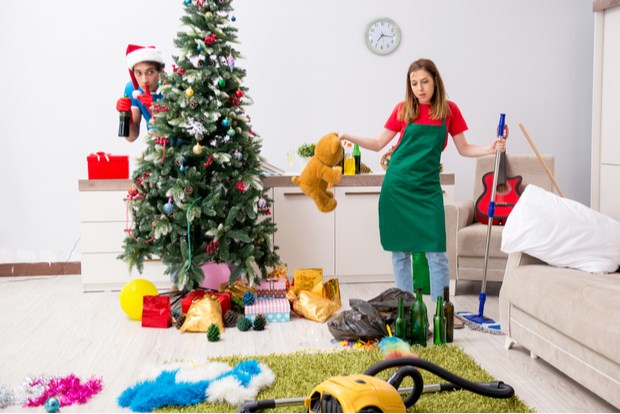 So, here are some easy cleaning hacks to make your Christmas merrier and bring warmth to your family.
Dust Everything Off
Dust every part of your home, cupboards & shelves, showcases, and soft furnishings before you vacuum the house. Ceilings and wall corners not to be forgotten, of course! Furniture and carpet are not part of cleaning in everyday household chores, so this is the time they all be brushed and cleaned up. Dusting off your home sets the initial stage of cleaning and while this is done, move on to the sweeping and mopping of floors.
Clean Up The Rooms, Doors & Windows
Pull out sofa beds, tables, chairs, and other hard furniture so as to vacuum and mop every nook and corner of the house. Doors and windows are part of the decoration arena and so do the in-and-out cleaning of them. Wipe up the glass with some good cleaning agent so that it's all clean and bright to stick paper decorations. Don't forget to wash linens and clean the carpets after being dusted them off. You can shampoo them with a specialized cleansing agent or hire professional carpet cleaners to get your carpets cleaned and get a brand new look. Give a good clean over all the surfaces where the specks of dust build-up and remove stains if there are any on the surfaces.
Get Your Guest Room Ready
If you are planning to invite your friends and relatives for the Christmas holidays, then ensure their room is organized and ready for usage. Clear up some space in the closet that will help place your guests' baggage, suitcases, and jackets. This will avoid your hallway or rooms being blocked by extra luggage and make the space clutter-free. Dust off and clean your guest room completely. Keep the extra blankets and pillows ready for your guests to use. Make the bed and other essentials in place for your guests to have a cozy and comfortable stay at your home.
Clean The Heart Of The Home-The Kitchen
The festive season is the time when we do a lot of cooking- from regular meals to sweets and savories, you cook different varieties of dishes. Healthy and delicious meals come from a clean kitchen and make sure you clean it up and keep it neat. Clean up the fridge, kitchen shelves, cupboards, and other kitchen utensils. Throw away the old products and fill them with new ones. Make sure you keep ready the extra heavy utensils ready for the festive cooking. Remover stains if any on the glassware. Don't forget the oven! Clean it and check the condition of the microwave oven and other kitchen appliances whether they are in good condition to use. You can avail of professional oven cleaning and repairing services through Sulekha. Clean the cooktops, sinks, and wash dishes prior. While you may use some special cutlery and glasses for your guests, make sure you clean them up and keep them ready for usage. Clean your dining table and set it ready for Christmas.
Wind It Up With Bathroom
Bathroom cleaning is one of those difficult household chores that one might hesitate to do during the festive season. Worry not, this is no big deal, too. Using some heavy-duty cleaner or bleach on the toilet and floor will do magic to your bathroom. Wipe the tiles with all-purpose cleaning products and mirrors with good glass cleaner. Remove the toothpaste splashes, fingerprints and water rings on the bathroom surface using alcohol, vinegar or baking soda. Fluff up the bath mat, clean shower and remove any dirt accumulated in the sinkholes. Have a quick check over the bathroom essentials like soap, toothpaste, brush, shampoo and extra towels for guests to use.
That's all there is to it! Follow these simple cleaning hacks, stay stress-free and make this Christmas extra merrier. If you are in need of any cleaning services, contact Sulekha- the fast and free way to get experts.