Deal With These Common Printer Problems Like A Pro!
Be it an office project or your child's homework; printers are indisputable for our homes. Printers are beneficial, and once we install and start using them, we tend to forget that they can malfunction too. So, the most commonly encountered problem that a printer can face is easily resolvable. They may not require you to resort to help from experts.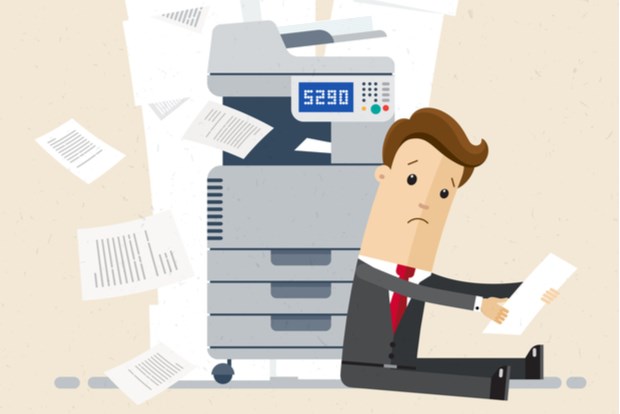 In this guide, we will guide you on how you can fix some common problems with a printer.
Getting error message, ink is low – This is a warning sign that alerts you. It would help if you acted on it as quickly as possible. Though the printer starts giving this indication much before it starts to dry out and hence provides the message with ink is running low. Make sure to replace the ink with the recommended ink. But if you get this message in a week or so after replacing new ink and you feel you have not used the printer that much, it is time to get the cartridge checked.
Jamming of paper – One of the most common and annoying problems all printer users face is paper getting jammed. Another problem is two or more papers getting loaded. There can be two reasons for this. The paper quality is too poor. Fine or thin paper can also have this problem. The other purpose is the papers when are placed are not correctly aligned. Make it a habit to stack the papers suitably. If you are facing this problem, take the documents out and stack them in an aligned manner, where the reams match.
Slow working of printer through a mobile device – Though a common problem, it is a milder one. The reason as to why this can happen is the device either mobile or the printer has some connectivity issue. Fix the connectivity issue, then disconnect and reconnect again, the problem will go away. Once the wireless connectivity is addressed, your printer should pick up speed and work as usual.
Poor print quality – The print quality can suffer for two reasons. There can be a problem with the settings or the quality of the paper. If in the settings, low image quality is selected, then also the print quality can be affected. Also, the poor quality of the paper can lead to bad printing. Try using high-quality paper. Either of these solutions will fix the problem.
The wrong printer getting selected – When you upgrade Windows or add new software, you may notice that your printer is sending a print command to a printer other than your preferred one. To resolve the issue, all you need to do is select the right printer. Click on Start, followed by Devices and Printers. You will see a tab called Printers and faxes, click on it. From the list of printer names, select the one you would prefer. Set it as the default printer, and the problem is fixed.
Images suppressed – If the photos are suppressed, it is called ghosting, then the reason can be the printer has got quite old. It is not much you can do to fix the problem by yourself.
Printer running slow – Some printers are high-speed, and others are slower than usual. However, a printer not working fast enough can be an issue. It is also not healthy for printers to work slowly. A common cause for the slow printer in the settings. An old printer may not be able to handle high-quality print, change the settings to normal or standard, low settings will further enhance the speed. If you have selected the duplex option, then the flipping of paper will take more time for the printer to complete printing. You can uncheck the opportunity, and the average speed will resume.
Avoid all those frustrating moments when workflow gets obstructed, and you get delayed due to a printer snag. With our guide, you can quickly fix the common problems and continue with a productive day of work. For professional computer printer repair services, get in touch with the best experts listed at Sulekha.