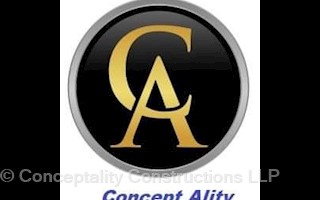 Conceptality Constructions LLP
Tuesday : 08:00 AM - 07:00 PM

(Lunch: 01:00 PM - 02:00 PM )

Wednesday : 08:00 AM - 07:00 PM

(Lunch: 01:00 PM - 02:00 PM )

Thursday : 08:00 AM - 07:00 PM

(Lunch: 01:00 PM - 02:00 PM )

Friday : 08:00 AM - 07:00 PM

(Lunch: 12:00 PM - 02:00 PM )

Saturday : 08:00 AM - 07:00 PM

(Lunch: 01:00 PM - 02:00 PM )

Monday : 08:00 AM - 07:00 PM

(Lunch: 01:00 PM - 02:00 PM )

Sunday : 08:00 AM - 01:00 PM
Closed Now

08:00 AM - 07:00 PM
Request Quotes
Recently Enquired Users100+
Overview
Experience: 8 Years No of employees: 25
Highlights From The Business
Conceptality Constructions LLP specializing in general contracting, Construction management, Design - Build, and self performing walls and ceiling services. Throughout our history, we have succeeded by providing a wide range of construction solutions to our clients and delivering a whole lot of quality work.
More information
Commercial Premises Served
Tremix Flooring, Decorative Flooring, Restroom Flooring, Server Room Flooring, Office Flooring, Showroom Flooring, Hospital Flooring, Educational Flooring
Type of Oven Serviced
Oven toaster grill (OTG), Solo, Grill, Convection
Waterproofing Projects Executed
Less than 100
Microwave Issues Handled
Oven plate issues, Not heating up the food, Buttons & keypad not working, Microwave not working
Air Cooler Issues Handled
Water leakage issue, Broken fan replacement, No/less cooling, Motor not working, Power/starting issue
No of Projects Completed
101 - 200
Waterproofing Type Offered
Water Repellent Nano Coating Services, Kitchen Waterproofing, Concrete Slab Waterproofing, Acrylic Waterproofing, Residential Waterproofing, Commercial Waterproofing, Industrial Waterproofing, Roof Garden Waterproofing, Swimming Pool Wateproofing, Roof Waterproofing, Structural Waterproofing, PU Coating
Type of Geyser Serviced
Portable Geyser, Instant Geyser, Immersion Rod Heater
Commercial Projects Executed
Less than 500
Free Consultation Provided
Yes
Kitchen Style
Scandinavian, German, Asian, Minimalist/Simple, Modern, Colonial, Traditional
Material Type
PVC, Plywood, MDF, Aluminium, Stainless Steel
Architecture Specialization
Farm House, Penthouse Apartment, Studio Apartment, High Rise Apartment, Duplex Apartment, Beach House, Sports & Recreation, Park/Play Area
Projects Executed
Less than 100
Refrigerator Issues Handled
Thermostat issue, Over cooling, No /Less cooling, Water leakage, Ice formation in refrigerator, Refrigerator not switched on
Type of Washing Machine Serviced
Semi -Automatic, Fully Automatic, Top Load, Front Load
Projects Executed
100 to 200
Free Door Delivery Provided
Yes
Kitchen Design Layout
Parallel, Island/Open Space, Straight, G shape/Peninsula, U shape, L shape
Geyser Issues Handled
Foul smell in the water, Water heating issue, Water leakage issue, Water heater not working
Avg. Project Delivery Time
45 days
Washing Machine Issues Handled
Washing machine door issues, Buttons not working, Washing machine is not working, Water overflows
Segment Served
Industrial, Commercial, Residential
Architecture Type
Landscape Design Architects, Apartment/Society Architects, Hospital Design Architects, Industrial Architect, Structural Design Architects, 2D&3D Elevation Drawing Architects, Commercial Architects, Retail Store Design Architects, Green/Sustainable Design Architects, Home Architects
Type of Refrigerator Serviced
French Door, Botton Freezer, Double Door, Single Door
Industrial Flooring Projects Executed
Less than 100
Chimney Issues Handled
Dust ventilation issues, Chimney cleaning, Power supply issues, Chimney not working
Furniture Type Offered
Wood Furniture, Steel Furniture, Rocking Chair, Wrought Iron Furniture, School Furniture, Meditation Chair, Kitchen Furniture, Cane Furniture, Baby Furniture, Air bed, Home Furniture, Office Furniture, Dining room Furniture, Living room Furniture, Bedroom Furniture, Hammocks, L-Shaped Sofas, Bookcases, Swing Chairs, Recliners, Ottomans, Center Tables, Nested Tables, Chest Of Drawers, Dressing Tables, Bedside Tables, Footstools
Residential Flooring Projects Executed
Less than 100
Languages Known
Tamil, Urdu, Hindi, Kannada, English
Contact Person
Ahmed Laeeqh
Address
444/2 mehpara residency 5th floor HBR layout 2nd block, Stage 1, HBR Layout, Bengaluru, Karnataka 560045, India, Kacharakanahalli, Bangalore - 560045
Frequently Asked Questions
What are business working hours?
Tuesday : 08:00 AM - 07:00 PM
Wednesday : 08:00 AM - 07:00 PM
Thursday : 08:00 AM - 07:00 PM
Friday : 08:00 AM - 07:00 PM
Saturday : 08:00 AM - 07:00 PM
Monday : 08:00 AM - 07:00 PM
Sunday : 08:00 AM - 01:00 PM