How I chose woven fabrics for my sofa
Nothing can spoil a good mood than a big coffee stain on the sofa. For me it happened last night while I was reading a book curled up on my favorite sofa chair with a mug of coffee. Out of nowhere, my dog came bouncing and jumped right into my lap. I ended up spilling all my coffee on my favorite beige sofa. No amount of cleaning and scrubbing helped and I finally decided it was time to change the covers.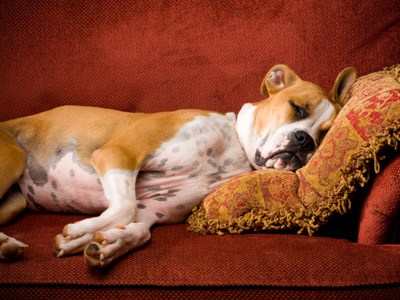 So how does one select a fabric? I was over whelmed at the choices of fabric in the market. A little homework from my side did help.
What is your need?
My need was for a durable fabric that would stand the test of time, finger paints, muddy paws, coffee and wine stains. Hence, I decided I needed something that was easy to wash and inexpensive. In this case, woven patterns would hold up longer than printed ones, as would higher thread counts. Thread count refers to the number of threads per square inch of fabric and denser fabric lasts longer.
Should you choose patterns or a plain color?
This hugely depends upon the room. A large room can do well with bold patterns. It may be best to avoid a very bold color for a smaller room, especially if your sofa is also large. Avoid delicately colored fabrics around children and pets. Consider the color temperature. Since warm and cool colors affect the mood of the room, make sure you're choosing the right fabric for the right mood. My library is not that large, so I decided on a neutral shade of beige to match the wooden flooring.

What style of fabric works best?
I love the feel of velvet but good sense prevailed and I decided to stay away from all fancy fabrics. Such fabrics need special attention during cleaning and their upkeep. Such fabrics do well in houses with no dogs and toddlers. Therefore, no velvet or silks for me. My main concerns were durability and fade resistance. I opted for woven cottons that were textured.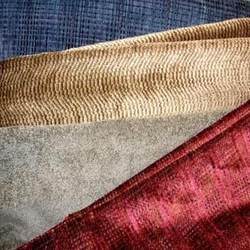 Where to find?
Shahrukh Khan lead me to D'décor but even though the fabrics made me feel royal, the Rs 700 per meter price made me run out of the store! So I headed to the local textile shop that had a lot of options in upholstery fabrics. Handloom textiles are both durable and inexpensive. I got mine for Rs 400 per meter. The tailor at the shop recommended 3 meters of the fabric for my kind of sofa. So at Rs 1200 I got myself a brand new sofa!