As an Irish proverb says, "Laughter is brightest where food is best", it is essential to make your guest delighted with some special palate that brings a smile on their face. Be it a workshop, fundraiser, presentation or any other type of business event, you are expected to get huge number of attendees. Hosting the event with delectable food is what that will bring a positive image to your company and the service you provide.
Hiring good catering service will boost up the corporate event to a step ahead. What should be taken into note, before you hire? Glance at these eight points before hiring!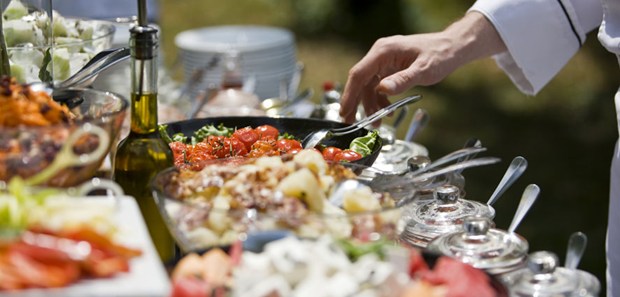 Service that brings happiness
-'Experience is always a guide', so does your contacts. If it's your first time in hiring a catering service, it is best to ask your friends or your management for some references. Everything is online now, so check online reviews to weed out the unsatisfactory amidst them
-Go for a visit to their premises, this will help you in checking on their cleanliness and professionalism in culinary
-Select the catering service according to your business event. Don't go for a wedding caterer if you are doing a business event. So, opt for experienced catering services exclusive for corporate events
-Ask them about the menu options they proffer. Every event has its unique specialty because of the variety they serve. To make a business event spectacular, it is a must to prepare the menu along with the catering service
-Good service is what that can uplift the stand of any event. So, before you hire any catering service ask them about the staff requirement to fully service the event. There are three types of dinner arrangements like:
~Buffet
~Bar Staff
~Sit down dinners
-A good catering service always welcomes customer insight, so check whether the chosen service will take in your views. The following service should work with you right from the start to the end of the event
-Menu tasting session is vital for any event and when it comes to a business event, the significance of menu is what they draws attendees attention. Test a sample menu and give feedback to them
-Finally the cost details come into play. Based on the satisfaction rate of their service, rate the quote. Right before you sign up the contract, make sure you ask them all details and read the paper once again.
Make your corporate event remarkable with the best catering service!
Source & Image: Net