With the kutcheri season almost coming to an end, I rushed to Narada Gana Sabha to dig into the sumptuous South Indian culinary treats, courtesy of J Hariharan- the mastermind behind Gnanambiga Caterers. For the uninitiated, this legendary outfit has been doing the catering for Narada Gana Sabha and Vani Mahal during the Kutcheri season, for very many years.
Over five generations of Hariharan's family have been a part of Gnanambiga Caterers. The man who heads the company now is the son of famous caterer N Jayarama Iyer, who acquired the business from his father. And, he, along with his siblings Shivakumar, Usha, Ramesh, Vittal and Prakash, has made Gnanambiga a force to reckon with in the field.

Mr. Hariharan, Ms. Usha (Hariharan's Sister)
Hariharan's goal is to give music lovers yet another reason to smile, apart from the divine melodies that are so characteristic of the season. His catering outfit specialises in a number of dishes such as the Ashoka halwa, and the many varieties of kozhakattai and dosa. Their signature soft idlys and idiappams are prepared lovingly by a taskforce that is brought down from Karaikudi.
Here is a look at Gnanambiga's sabha menu:
Filter Coffee
Ashoka Halwa
Elaneer Payasam
Vadai
Akaravadisal
Kozhakattai varieties (kara kozakattai and sweet kozhakattai among others)
Idly and Sambar
Idiappam
Dosa Varieties
Pongal Varieties
Sambar Rice
Curd Rice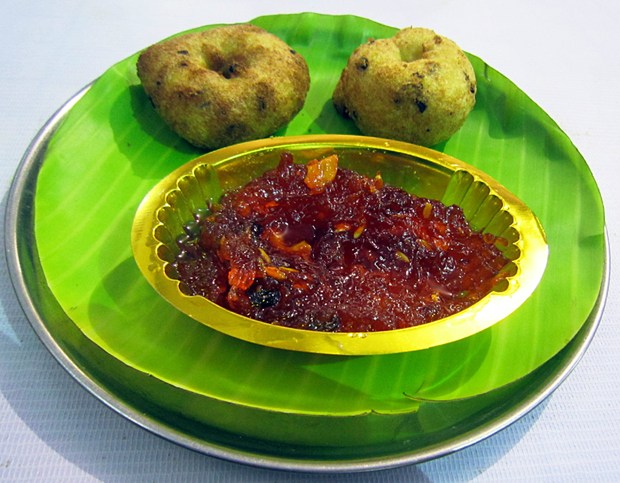 So, if you haven't already savoured these yummies, make sure you fit a quick visit to one of the aforementioned sabhas into your weekend- you can avail of these delicacies only till January 1.
Margazhi magic apart, Hariharan has done the catering for innumerable marriages and functions. I am convinced that it is the company's sheer variety that makes it such a hit among the masses.
Menu
Traditional Food

Sweet (Padhir Peni, Mini laddu)

Special Milk Payasam

Badam Milk

Curd Vadai

Muzhu Mundhri Pakoda

Vegetable Curd Pachadi

Pineapple Sweet Jam

Baby Corn and Capsicum Usili

Beans and Coconut Curry

Yam Fry

Aviyal

Dhal

Pickle

Mixed Rice (Tamarind rice)

Chips

Brinjal Roast

Sambar

More Kuzambu

Tomato Rasam

White Rice

Curd

Butter milk

Banana

Buffet/ Sit-Down

Chat

Drumstick Soup

Malai Sandwich

Badam Pistah Ragi

Mini spring roll

Elaneer payasam

Onion Raita

Green Peas and Butter Beans Curry

Potato and Onion Fry

Papad

Pickle (Manga Thokku, Puli Inji)

Potato chips

Baby corn roast

Ladies Finger Masala fry

Idiappam and Stew

Tomato Dosa

Brinjal fry

Romali Roti/ Naan/ Chapatti

Kadai Paneer/ Mixed Vegetable Curry/ Mushroom Curry/ Gobi Manchurian

Fried Rice

Bisi Bele Bath

Tomato Rasam and White Rice

Bagala bath

Deserts (fruit salad, ice cream)
The service is excellent, thanks to the 100 permanent employees and 400 temporary employees Hariharan has on board.
Muhurtham food costs Rs.600 per plate while a buffet will set you back by Rs.1000 per plate. Sit-down servings during the reception will feature the same dishes as the buffet and cost you Rs.750 per plate.
"Buffets are the best when the crowd is large. There are people who request for both a buffet and sit-down affair, but this isn't wise. So, we provide around 10 to 15 tables and employ our boys to help with the seating. This way, people can enjoy the buffet, sit comfortably and eat… wastage is also easily managed," he says.
The dishes listed under the traditional menu are served for other small functions too. The caterer is flexible to alterations, depending on the client's budget.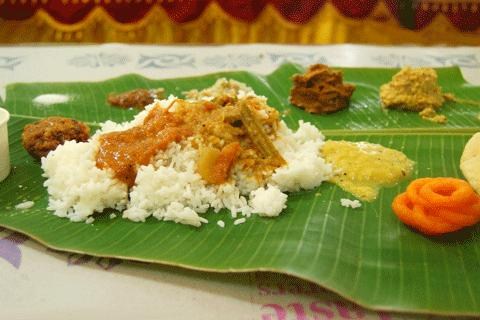 Source: gnanambigacaterers.com
Hariharan gets up to five marriage orders during the peak wedding season, out of which he takes up only two. So, book your dates with him six months in advance for weddings, and two months before, for other small functions.
If you have planned your wedding for next year and are looking out for good caterers, don't hesitate to call Hariharan at 9840791697.