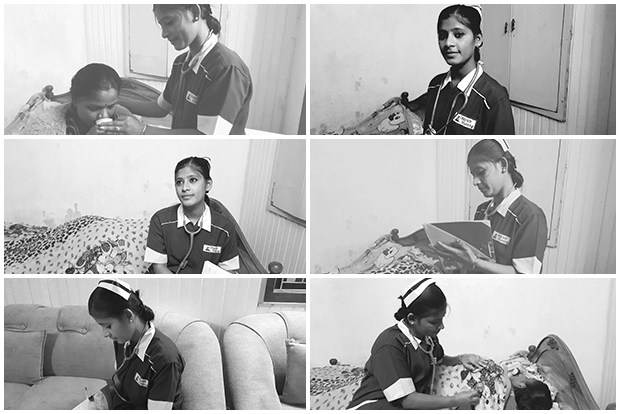 I set out to the Nursing home, just as I had every day for the past 5 years. Not once did I stop to think that something about that day was going to be different. I knew I was going to be assigned to a new patient so I hurried along to be there on time. I wondered what the patient would be like. Thinking back to the patients I had nursed till now, I realised that I have only had pleasant experiences. Imayam Home Nursing has been around for a good 15 years and the owner (a nurse herself) is a calm and kind person to be around. When you work in such a nice environment, it gives you something to look forward to every day and that is exactly how I feel.
I reached a little earlier than my reporting time and as always Bindhya (Imayam's owner and the head nurse) called out for me to come inside and eat something. She would always tell me, "Elakkiya, you must eat to keep your strength up and serve the patient nicely." So, I ate something and left for my new home for the next few months. I knew that my patient had just gone through an Angioplasty but unfortunately it had not worked. It was unfortunate however it was not uncommon at her age of 87. I had seen cases like this before where the kids had settled abroad and couldn't return but the doctor had said it was only a matter of a few months. I reached and was greeted by the nurse I was relieving and knew from her face that things had not gone so well. I went in and the first time I saw my patient (Mrs. Lekha) itself I could see her pain so very clearly. Her eyebrows were scrunched up like she was concentrating on something but her eyes were closed and her frail little body was lying still on the bed. Her whistley breath was the only thing that kept me from checking her pulse. I went to her and called out and introduced myself, but she turned her head away from me, like a stubborn child who had just lost his favourite toy. She was a picture of complete sadness like the surgery had taken more from her than just a few hours of her life. I saw the untouched soup on the side table and decided then, that I would make this lady smile, no matter how long it took.
Every day I came in and spoke to her about my day. I came from a big family of jokers so I pulled no stops to try to make her laugh. But her expression never changed. I had gotten her to drink soup by the end of 3 weeks. But even then she refused to open her eyes and even look at me. By the end of two months, I was slightly worried that my positively wasn't reaching her but I was still determined. Until the next day. I had a horrible day in the morning, our family dog (Puli) passed away the previous night when I was still at Mrs.Lekha's home. I arrived in a very sad mood, I gave her the soup and settled down next her. I was quite only for about 10 minutes when I suddenly heard her small and throaty voice saying, "Ela today you aren't rambling on about your family's jokes? Got over already?" And I turned to see her give a smile and open her eyes slightly. It was a half-smile, but a smile all the same. With tears in my eyes, I had finally realised that this was my life's purpose – making people feel better. From that day forward, she made a conscious effort to actually live everyday till her last. Not just to exist, but to live.
Since then I have nursed many people, but she changed something in me. She made me realise what I have known inside for so long - that I am a Nurse and I am proud to be one. This is what frames my identity. And I now know that, in this life or in the next, even if I was given other choices, I will still always and forever more choose to be a Nurse.
Just like Elakkiya from Imayam Home Nursing, every Nurse or Caregiver is in the profession out of her/his passion for helping others. They saying nursing is one of the most humble professions, this is proven true every day by a Nurse whose life's purpose is to just give constant care and when it's your life's purpose you make sure it is the perfect kind of care. Everyone wants only the best care for their loved ones, so if you or someone you know is looking for a Nurse, you can find the best, here.