Brilliant Ways To Pot Indoor Plants
Plants are the great decorative item that can literally add life to your home interior. They are such a green addition to your house which can improve the air quality, brings natural fragrance, color and feel to your house. The benefits of planting plants at home are plentiful which cannot be measured. If you are bored of keeping plants at normal traditional pots, here is a list of few interesting ways to display your greeneries.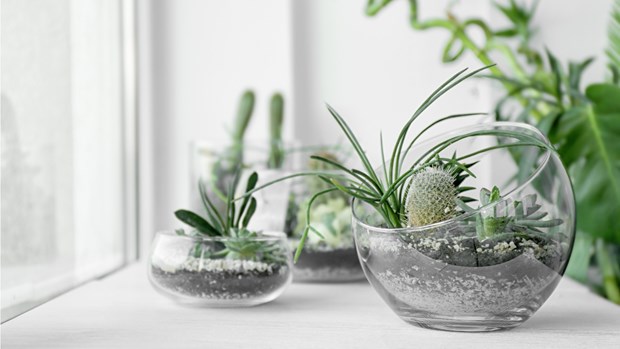 In wooden frames
The frames can give a shape to the Plants and creates a 3D effect. You can opt for any size of a wooden frame suitable for your wall and let the plants hang vertically on your wall. It is best to go for succulents whenever it comes to vertical hanging and also maintenance is very easy when it comes to small plants like succulents.
In kitchen containers
You can upcycle and reuse the old kitchen containers for keeping your plants. Spray paint the container with eye-catching color and then make a few small holes into the containers before putting the plant to help extra water to drain through the hole. You can even decorate your kitchen by keeping the plants on an old traditional teapot or ceramic china dish.
As Hanging from the ceiling
There are many glass containers available in the market to hand the plants from the ceiling. If your house is designed in a modern or contemporary way of interior design, you can make it look edgy with these types of glass plant hanging.
As vertical gardens
Vertical gardening is considered as one of the trending interior design in many areas around India. There are many vertical gardening contractors in India to help you get a living gallery wall for your house.
In Furniture
You can place the plants in the small stools or tables to display your plants in a modern way. If you have an old drawer at home, you can leave the drawers half open and place the plants on it. Doing this creates an impact that is greater than a gallery wall.
You can also place the plants on terrariums and place small dolls to create a miniature place. Get more interesting ideas for your home by hiring interior designers and decorators.