Is TVF Aspirants A Must Watch Show?
There is no doubt that the show Aspirants created by Arunavh Kumar and Shreyansh Pandey, aired on one of the most loved youtube channels TVF (The viral fever) has won the hearts of audiences and already broken many records. With more than 5 million views in just one day, the final episode is the most trending topic on Youtube and surprisingly on Twitter too this week, which turned out to be shocking news for many leading OTT platforms. Launched on April 7, the director of TVF Apoorv Singh Karki has done a spectacular job in making the life of an Aspirant touch our hearts. The story revolves around Abhilash, a middle-class working professional preparing for the most anticipated job in the country. He struggles through the years to become an IAS officer and on this journey makes friends, falls in love, and learns some of the most beautiful life lessons.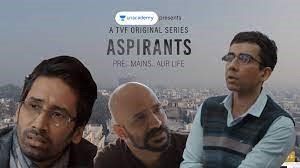 If you are into binge-watching series and don't mind spending 3 hours and 45 minutes of watch time, then we highly recommend you to watch this web series. Aspirants (Pre...Mains..Aur Life) is one of the most uplifting and motivating series of India this year that appeals to every Indian in a different way. The casting is not big, with just a few familiar faces. Naveen Kasthuria, who has also worked in "Pitchers", the previous TVF project has given a spectacular performance in this series and made his mark as an actor. Shivankit Singh, Sunny Hinduja, Abhilash Thapliyal, and Namita Dubey are the few main characters of the show and each of them has done a great job to keep you hooked to your seat. Each and every actor of the series fits right for his/her role and the location is set in the mecca of UPSC preparations, Old Rajindar Nagar. Whether you are a UPSC aspirant or not, the set and scenes ring a bell in every engineering, medico, or other aspirants in the realization of the heavy competition and uncertain future of students in India. The Pressure and anxiety during the preparations for the IAS exam, and the way life unfolds six years later is shown parallelly through the series with the stories meeting at a beautiful conclusion at the end of season 1. Watch out for powerful scenes like the one in which Sandeep bhaiya says "Plan B's are not for losers, but to maintain balance" or when Dhairya changes Abhilash's negativity into positivity. The audience is already rooting for a sequel to Aspirants but there is no news of another installment as of now. If you are also an aspirant and looking for guidance, check out the best IAS coaching in your city today.