Easy Decoration Tips to Enlighten the Festive Season
The festive season is here, and everybody is getting ready to put the utmost effort into turning it into a beautiful experience. The best way to get into the festive mood is by setting the vibe around us with the right decoration. Though people do this every year, most of them feel that they haven't done enough or become tired of not receiving the expected results. Here are few easy festive decoration tips that require minimum effort to bring in an inevitable delight to the eyes.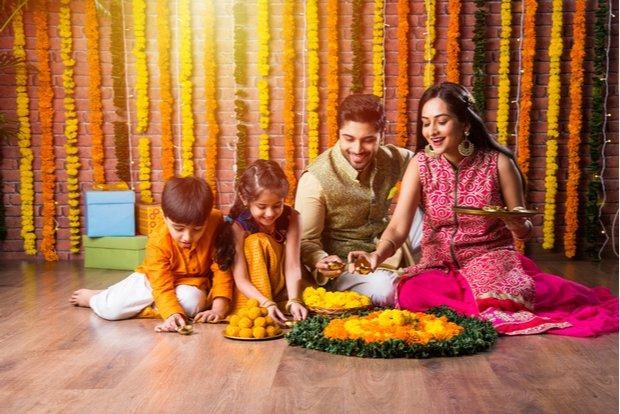 A Clean House
Before starting to decorate, the perfect way to start is cleaning the home; never skip this step. Remove piled-up stuff around the house. Clean every corner and arrange the furniture appropriately. In case you have carpets in the house, wash and change them. If you plan to give a new look to your interiors, this is the best time. Many shops and brands open up discounts during the festive season. Change the backdrops, replace new curtains, buy new decorative items and revamp the look of your house.
Lighting it Up
Lights are an essential part of festive seasons. They hold in the magic to instantly bring in a divine sense of happiness. Try bringing in aesthetics with the way you use lights. You can use painted diyas, candles to give an authentic vibe. Electronic string lights look pretty when hung on walls and entrances. Be careful about where you place the light and ensure it is safe.
Fragrances and Flowers
What are festive seasons without flowers? Adding toran to the entrance automatically adds to the celebration vibe. Make bouquets and place fresh flowers at the corners. You can also add flowers to rangolis. Flowers act as natural fragrance elements; they have a mild smell that is bliss. You can use scented candles and incense sticks; they act as aromatherapy.
The Guest Area
It is better to restrict the number of guests due to the COVID-19 pandemic. This is safe for both you and your loved ones. If you have guests coming over, arrange the guest area properly with distanced seating. Have sanitizers and handwash placed at essential corners.
These are the essential mentioned tips to celebrate a safe and happy festive season. Save your energy and vibe by hiring event planners and decorators through Sulekha.