DIY ideas for Christmas candle decoration
Everything looks starring in the warm candle light and so people call it a 'Candle-light dinner party' as it always creates a magical ambience filled with romanticism and serenity. Next week is Christmas and candles are the best piece of light source that marks joy and glory to our festive. I can describe candles as 'The unique way to lighten up hope and enlighten souls to rejoice the birth of the heavenly power'. As it marks the traditional way of celebrating Christmas, candle is the most important thing to top the shopping list.
Doesn't it look bored to deck up the same unadorned candles even for this Christmas? Well, here is where you can showcase your creative notions. How to pour the ideas to shine the light? Here are some interesting and innovative candle decoration ideas that will bring about a new Christmas feel to your house.
Check out!
Glitters can add the magic
I would say, "It's simply easy". Buy a candle and choose the size in accordance of your choice. Apply glitter on the edges or corners (as you wish). If you are using a small candle, then place it inside a glass cup and coat the glass with glitter outline. That's all! When you light the candle, you can see the glitters sparkling with varied colors.
Check, whether the candle color goes along with your Christmas color theme as discussed in the previous blog.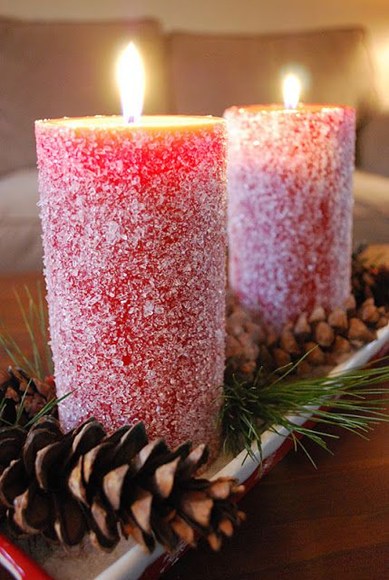 Natural delight
Let the real flavor of orange mantle your interiors thus making you feel the real Christmas joy. Here is a video that explains how to make one. If you have the patience, you can come up with this piece of candle light!
Tea cup as candles
Tea cups are not only meant for having a nice hot tea, but using which several creative ideas can be formed. One such is candles! As the picture below shows, if the process is continued the same way, your tea cup candles are ready!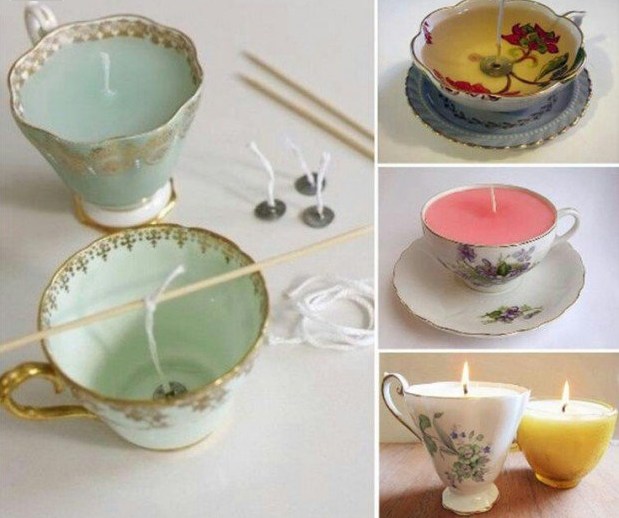 Glass cup candles
If you are an ardent glass painter, then here you go with these amazing glass cup candles that not only generate the same yellow tone. It glows in varied color tones. Your paint does the magic!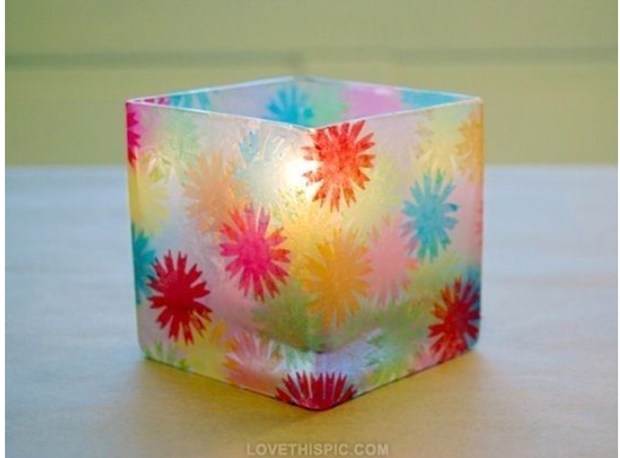 Cello tape decoration
If you don't have enough time to paint and glitter the candles, don't worry! It's all available in market today! Buy some 10-20 single colored and multi-colored cello tapes and just stick to the candles in the way your desire. It's done!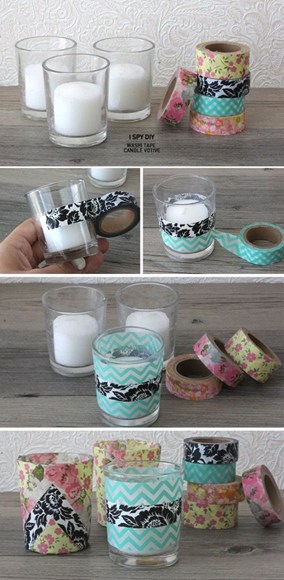 Shirt buttoned candles
This looks something different! Stick the multi-colored shirt buttons to a glass tumbler and the place a small candle inside it. The color and look makes the celebrations look different!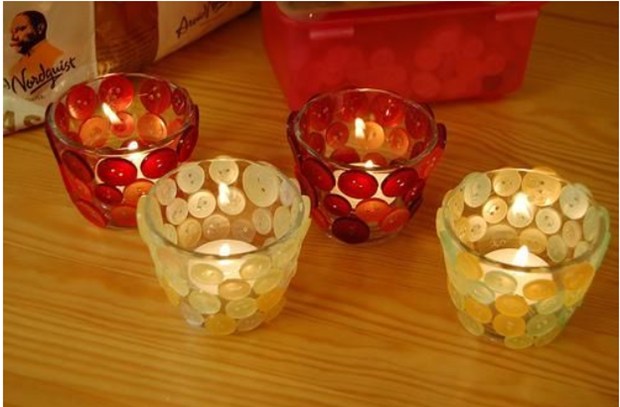 Light hidden in a bush
Pine leaves are famous for Christmas and it can also add on to your candle DIY. Add glue to the surface of the glass tumbler and stick these pine leaves and place the candle inside.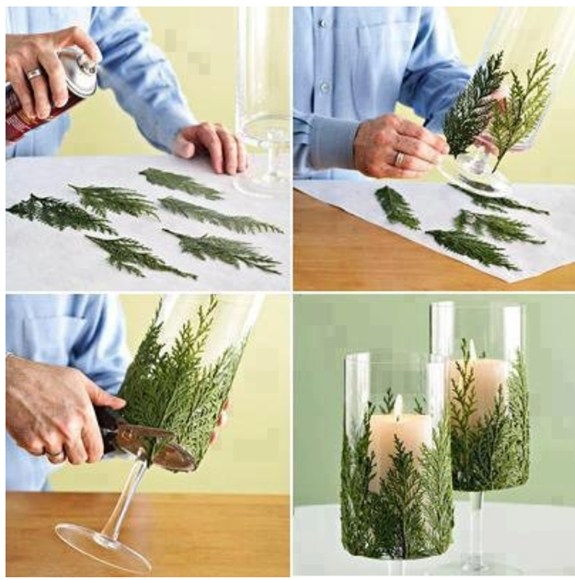 Cinnamon stick and pine cone candles
As the orange candles, these two types of candles will not only nimble the surroundings, but will mete out a fresh flavor of pine and cinnamon. This is simple and is best to place, when you invite the guests to dine.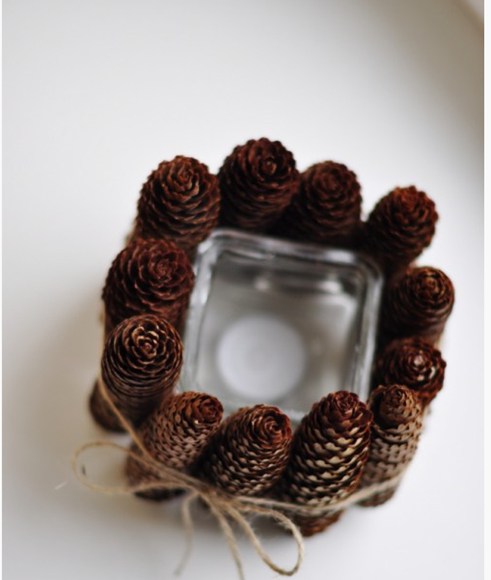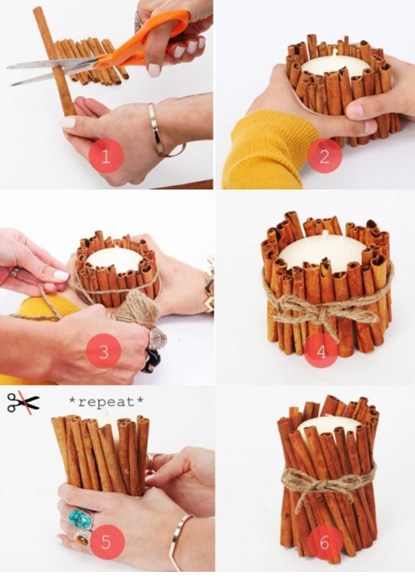 Sea shell candles
It is something that adds a bit of nature to your Christmas celebration.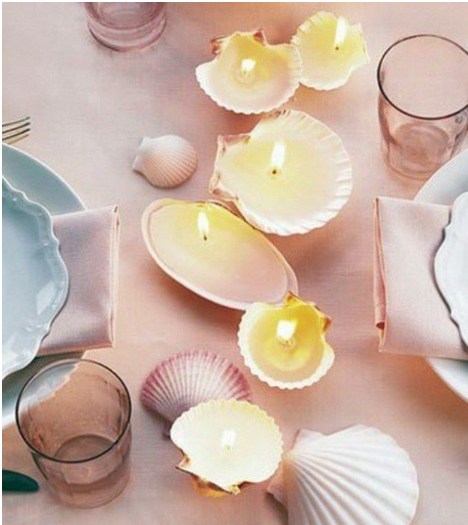 Buy your candles from the preferred Candle Dealers and then start out your decorations, as there are only 10 days remaining for Christmas.
Image: shelterness.com, stylemotivation.com and pinterest