5 Things To Know Before Buying A Portable Generator
It is unimaginable – the idea of living without electricity. So much so that a few hours during a power cut feel like an eternity, to say the least! The fact remains that power blackouts can occur at any time and having a backup source of electricity is very essential.
Thanks to Portable generators, now you can get power at almost any place and at any time you need. But when faced with a vast choice of portable generators, how can you be sure that you're buying a dependable machine that can provide the required power as per your application and use?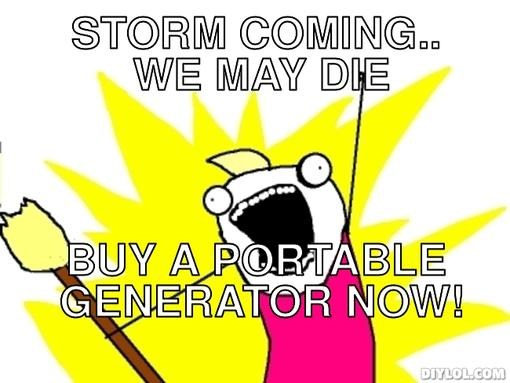 It's important to pick the right generator for your needs. In fact, there are many factors to consider before you buy. Relax, we've listed most (if not all) essential elements to consider before buying a portable generator.
1. Determine your peak – wattage needs
You may begin by determining the watts for those items you would want to use when the power goes off. It is important to understand your power needs and match them to the right generators. Most portable generators may not have sufficient power output to run everything in a house but few are capable of supporting multiple appliances. Choose your portable generator wisely based on your power output required to support the appliances.
2. Decide your Fuel Tank Capacity
How long you want your generator to run if the power goes off? The capacity of the fuel tank of portable generator determines the hours for which the generator works. Different generators will have different consumption rates. A simple generator works at an average rate enabling current at least for four hours. Whereas there are generators having a larger fuel capacity which provide power for longer hours. While purchasing, ensure that it is optimized for maximum power output and efficient use of fuel.
3. Weight and Portability
Some generators are really huge that it's hard to shift from one place to another. People prefer portable generators for the need of power access wherever they go. So, the weight and portability matters while selecting a generator. If the generator is for commercial purposes such as renovations and construction, you will require a very light one. Sometimes you might require a heavier one with functional wheels. If the light generator is powerful enough, remember that the cost will be much higher. For your convenience, choose a generator that is cost effective, light and portable.
4. Check Maintenance needs
Any generator you buy, it requires constant care and maintenance for proper functioning. Where will you have your generator serviced? How many times do you need to get it serviced? The maintenance factor differs for each model. Lack of proper servicing damages the operation of the generator. Don't forget to inquire about maintenance services while buying the generator. Also, check the amount charged for servicing the generator.
5. Additional features
Certain models have features which will be different from others and might also have unique features. Generators are known for their disturbing motors. It is not only annoying to listen to the motor running, but also that it causes pollution. Do check that the model you choose has noise reduction features. If the level of noise is not indicated in the specifications, inquire from the manufacturer's customer service. A portable generator should also have a functional fuel level monitor to avoid running out without being forewarned.
There are many models of portable generators to choose from and therefore, it is imperative that you choose one that is both economical and will offer great service. Take into consideration these factors to ensure that you will have the perfect portable generator.