Do up your home with Rustic Decor
With all the styles of décor out there today, you may wonder what rustic décor is all about. Well, it is a style defined by the words `natural, earthy, and unrefined'. It is a laid back, feel-at-home style which avoids anything too structured, quaint, or formal.
Here are some examples for you: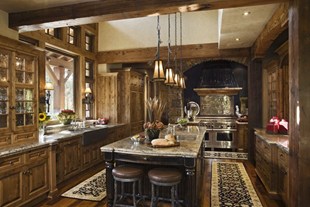 Picture-digsdigs.com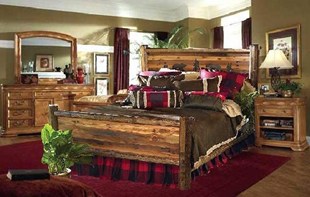 Picture-distrohome.com
Now you have an idea of what rustic style is-(and hopefully you like it!) The question then arises, "how do I incorporate this in my home?"
Here are a few tips:
Natural wood Textures
There is nothing more beautiful than natural wood in its unpainted, untreated form. Choose wooden planks and wooden beams for the ceiling to create a log-cabin like feel. Picture-designlike.comIts best to leave wood in its natural form, so stay away from heavy paints and veneers and use a simple varnish to bring out the natural sheen of wood. Do check out rusticfurnitureindia.com for a good selection of furniture.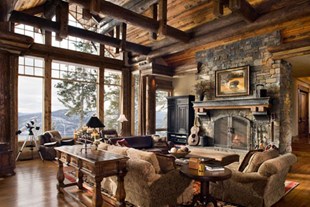 Muted Tones:
Wild, bright colours will jar badly in a room furnished with this décor style. It is best to keep it pared down to mutes, understated tones and shades like desert neutrals, earthy reds and dull greens which exemplify and complement the roughhewn and natural basis of rustic décor. Choose your accessories and furnishings accordingly.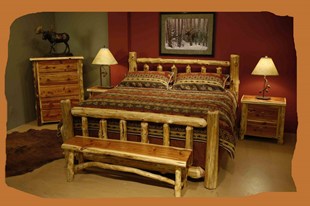 Picture-abattylife.comBe Wise in how you Accessorize:
Imagine this sort of design style at a beach house or fur covered sofas in the humidity and heat of Mumbai or Chennai. In a nutshell, while it may be very tempting to furnish a room entirely in this look for the sake of homogeneity; do consider where you live and how practical it will be! Pick a few great accessories and stick to wood and the general color theme without going overboard.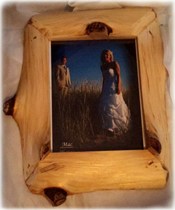 For example-I love this frame as it has a rough, imperfect look to it, but at the same time, it is obviously, not rustic. Again, Rustic décor has a lot of interpretations, but you must apply it to the Indian context. By this I mean, that if you choose to go all out and have images of grizzly bears and other fauna found in colder climes than those of India, it will look incongrous and contrived. Choose instead, more subtle elements that can be found everywhere, like this pine cone welcome sign.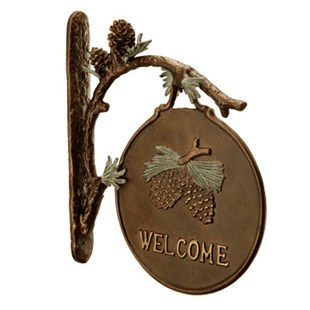 Natural Materials:
Since this style of interior design embraces all that is nature based, it is obvious that jute, linens, suede, leathers, rattan, and wicker are the fabrics of choice. They add texture and colour, and blend in seamlessly with the atmosphere of a rustic room.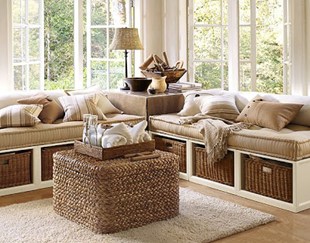 Picture-pintrest.com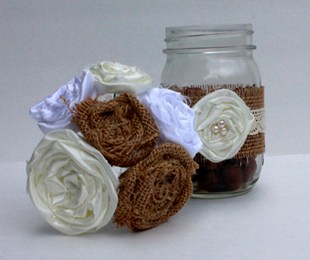 Picture-etsy.comBig Windows:
A key element of rustic décor is a lot of light and huge windows which let the light stream in. So go ahead and get the biggest windows you can find and let the light shine!
Picture-everythingloghomes.com
So there you have it- a new style of interior design which harks back to nature. So if you are a nature lover like me, you can adopt a few of these design tips to feel closer to nature, and live a more "natural" life perhaps!