Things To Keep In Mind While Choosing Your Marriage Hall!
Your 'big fat Indian wedding' is just around the corner and you can't stay calm? The excited nervousness is understandable considering how important this day is going to be for you. Selecting the right vendors is the first and most important step in planning a wedding. Out of this, choosing the right hall for your big day is critical as the hall sets the mood for the whole event. A good hall lends to the event the required ambience and grandeur.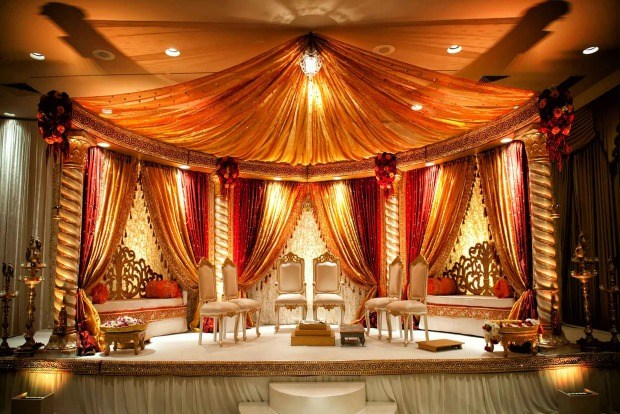 Here are a few things to keep in mind while choosing a marriage hall:
Number of invitees
Before choosing a hall, make an approximate estimate of how many people you are expecting for the wedding. There are various halls in the city that would be suitable for different sizes of crowds. According to crowd you are expecting to attend the function, shortlist a few halls that has sufficient capacity to accommodate them all.
Ambience
A fresh coat of paint, minimalist decor and an elegant draping gives the hall a good ambience. Owing to these subtle enhancements, the wedding party gets a neat canvas to plan their wedding decor accordingly. Bright colours and gilded permanent decorations would interfere with the colour theme and decor that you have chosen. The exteriors of the hall and the locality are also important factors to be considered while choosing a place. A hall that overlooks a water body, or has an open lawn etc. adds to the beauty of the event.
Facilities
Consider the additional features that the hall comes with. For example, air conditioners, catering service, sufficient chairs and tables, clean table linen, audio visual system, green rooms for the bride or groom to change, traffic control and parking assistance, provision for any live food counters etc. add to the value of the hall.
Parking space
Ample parking space is very important, especially if you are planning to invite a large crowd. If there isn't sufficient parking space, people would be forced to park on the roads and by lanes leading to further traffic blocks and inconveniences.
Proximity
Even though it is not possible to decide on a location that is convenient for all the attendees, keep in mind at least the close family while choosing a location. If the place is extremely difficult to find, or very far from your place of stay, it would be inconvenient on the day of the marriage. If you are planning on a destination wedding, make stay arrangements accordingly. However, if this is not the case, then choose one within the city that is popular and easily accessible.
They say, "Well begun is half done." By choosing a good marriage hall, you would have to invest much lesser in further decor and maintenance. So, as the first step of your wedding planning, decide on the most suitable venue for your big day. As the date of your wedding nears, go ahead and finalise on all your wedding vendors and allocate the necessary tasks to your near ones to ease of some of that burden off your shoulders.