Tips To Consider Before Booking The Right Marriage Hall!
Deciding to get married might probably be the easiest thing to do as far as weddings are concerned. Shortly after a couple announces their decision of getting hitched, along with the many well-wishers, comes the inevitable questions of when and where.
Ok, so there was a time (probably until the previous generation) when couples would select the one wedding venue available in their hometown, But times have certainly changed, as the number of wedding venues is infinite and each one of them provides alluring services, therefore giving to-be-couples a tough time before they finally select their space.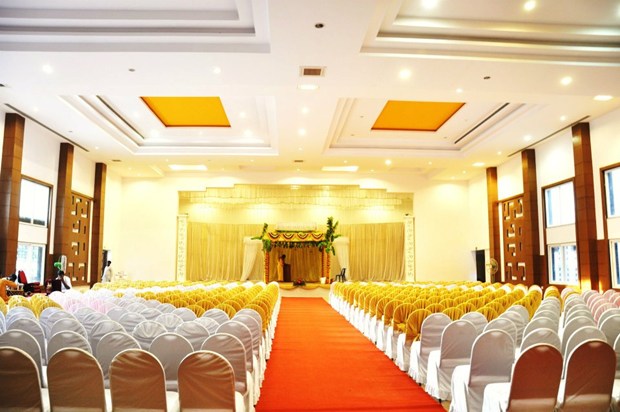 Understand the arrangements of the wedding venue
Many might think wedding planning will be a cakewalk and it's as simple as seeing a venue and if you're happy with it, you sign the agreement– NO! There are many other things in between these such as having an estimated number of guests you will need the venue to fit, the season and time of the day you want the wedding to me in and any special accommodations your guests might need.
The big question is – should a couple pick the venue before making a guests' list or should they book the venue as per the head count? The answer is simple – it is essential you have a rough idea of your guests list as that will allow you to strike out venues lists quickly based on their facility size. Nowadays, almost every good venue will have an online page that has information regarding their facility size, so this will make things easier for you.
Visit the venue at a time of day your wedding will be
Many people go back to visiting the venue at a time when they are free; which means they visit the venue in the morning while their wedding is scheduled to take place late evening; but you probably won't be getting the same view of the venue. Which is why, it only seems rational to visit the venue at the very time of day when you're wedding is to take place. It is also the perfect time to visit the venue along with your wedding planner/ coordinator so they can take a look and offer you some good advice.
Is the venue full serviced or not
There are two types of wedding venues – full service and not full service. While a full service wedding venue offers you everything from table and chair rentals to catering supplies to floral arrangements, a non-full service venue offers you the space and the rest is to be taken care by you. Both sure have its ups and downs as working with venue-required vendors does not give the option to choose those you want to work with.
Lastly, ask many questions
Making a list and asking all the questions to multiple people associated with the venue is important, as you are sure to get different answers from people depending on who you are dealing with and what role they play at the venue – from catering manager, to business manager, to the day-of coordinator.
Here are some essential questions you might forget to ask, "How many weddings are scheduled for a day? Do you have any construction or are anticipating any changes to the venue before my wedding day?" Asking the right questions to the right people is very important to get the right answers.
Therefore, these are some of the important tips to look into while choosing the perfect venue.
Are you getting married? Click here to find the perfect venue for a fairy tale wedding.
Image source: Net