A step-by-step guide to clean your modular kitchen
Cleaning up is the most crucial aspect of maintenance. But if you don't know where to begin, it can seem like a challenge. A step by step guide can help you plan your cleaning schedule. Before we discuss the actual steps, it is essential to note a few points.
Frequency – It is not necessary to clean the entire modular kitchen on a daily basis. Planning your cleaning schedule in daily, weekly, monthly, bi-annual fashion. Countertop needs cleaning every day, but appliances like microwaves need only weekly cleaning. For Chimneys, bi-annual or annual cleaning is enough.
Cleaning materials – Keep a stock of cleaning materials like sponges, dishwasher, glass cleaners and all-purpose cloth available in the market. Anti-germ tissues are also good alternatives. You can make your cleaning liquid at home by mixing vinegar, baking soda, and liquid soap.
Special care – Some appliances like oven or microwave may not be scratch resistant. Do not use a scrubber for them. Keep in mind what you want to clean and use a suitable cleaning medium.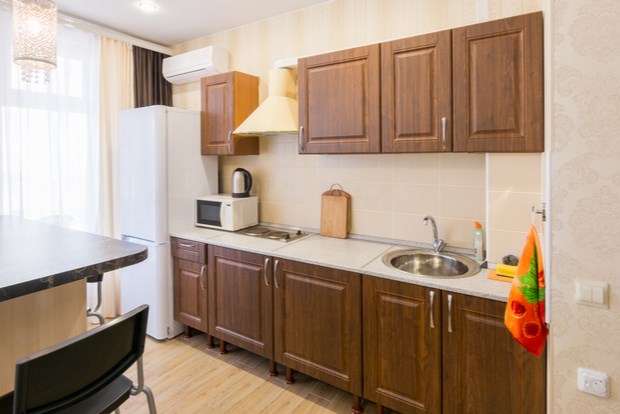 Keep time aside for cleaning the kitchen. Make it a habit and an integral part of your routine. Prepare the cleaning basket and get ready to clean-up.
Clear the clutter – Start by arranging things in order. Put back all the spices on the rack, tighten the lids. Place all utensils at its rightful place. Clear the countertop space, remove the burners from the gas. Remove any unnecessary items from the countertop area; try to keep it as free as possible.
Spray all over – Make your own cleaning solution or put some store-bought multi-purpose cleaner in a spray bottle. Clear off any debris or food crumbs. Now spray generously on all open surfaces, inside the microwave and the oven. Let the solution sit on the stains and grease. Give it adequate time.
Wipe – You can use anti-germ wipes or a wet sponge to clean. Soak a sponge in water, microwave it for 20 seconds. The steam from the microwave helps clean the inside of it. The germs accumulated in the microwave also dies. This sponge is perfect for cleaning the surface area sprayed and soaked in the solution.
Don't pile the sink – The sink is where we put all our dirty dishes. When tidying your kitchen, don't pile dirty utensils in the sink. Clear them up and start cleaning the sink. If you have a steel sink, use a scrubber, for others a sponge. Make sure the drainage is not blocked by food wastes and vegetable peels. Keeping the sink empty will help you with access during cleaning the rest of the kitchen.


Dust and mop – Any cobweb around the cabinets can destroy your sophisticated and chic modular kitchen décor. Get rid of the webs and dust particles with a vacuum cleaner. Use the small pointed edge to reach narrow areas. After dusting and sweeping, start mopping. Use a germicide to clean the floors. To enhance the shine of the floor, you can put two spoons full of vinegar in the bucket of cleaning water. It also acts as a natural disinfectant.


Throw the trash – A huge part of cleaning is getting rid of the trash. Once you are all done, throw the trash. Don't forget to clean the trash bin as well. Do not put in the garbage bag before it is completely dried.
Tips
Use cut lemon pieces for scrubbing. The citric acid loosens food build-up and helps the cleaning process from places like oven trays.
Use a room freshener, essential oil or natural flowers to deal with kitchen smell.
Seek expert help for cleaning appliances such as a chimney, exhaust fan, and others.
When it comes to cleaning, a modular kitchen needs minimum attention. Cooking is already fun in your well-equipped modular kitchen. Keeping it clean would make you look forward to your next cooking adventure. A tidy kitchen always feels fresh and inviting.