Changing lifestyle has led people into the constant pursuit of living luxuriously. And nothing speaks luxury like a Contemporary Modular Kitchen space. Investing in the building of a Modular Kitchen will give you both appearance and functionality and prove to be a great interior design decision. But just like all other fields of designs, the trends are constantly evolving.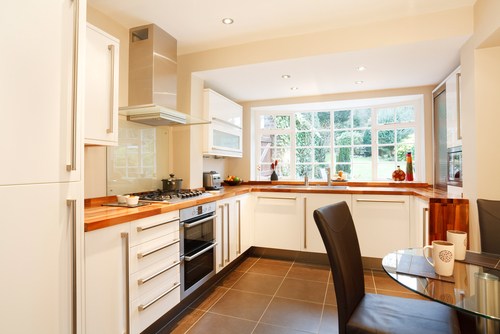 So here is your checklist to keep up with the current trends in Modular Kitchens:
1. Open Kitchen Spaces:
Gone are the days when people cooked behind closed doors. The current trend, something that is here to stay is open kitchens. Both restaurants and homes are now adopting this trend for the common love for a spacious look. Open kitchen spaces ooze sophistication and class as they give the impression that cooking is an art that needs to be observed. Kitchen and Living areas that cross into each other also add a lot of character to the house.
2 . Contrasting Colours and Patterns
A trend that is not just restricted to modular kitchens and applies to interior designing, in general, is the pairing of bold colours with sober ones. When it comes to a modular kitchen design, you can take it up a notch by pairing wooden or textured flooring with a sober-coloured matte cabinet. There can also be subtle texture differences between the cabinets itself, with the lower cabinets being a different pattern to the ones higher.
3. Space Saving Designs
There are different shapes of modular kitchen set-up such as U-shaped, One-Wall, L-shaped and Parallel, in which each one has a unique trait and striking feature. The one in trend currently is the L-Shaped set-up since it saves the most space. This trend is also in line with the idea of giving this house an airy and open look and feel.
4. Motorized Cabinets
A style that will save a lot of time and strain in the kitchen, motorised living is the future of interior design. Handle free cabinets are a step towards more comfortable and convenient operations in the kitchen. Modular Kitchen cabinets lately come inbuilt with either pressurised push-release mechanisms or motorised mechanisms similar to the opening of a safe. This element will definitely add a unique factor to your kitchen and help it stand out amongst other common kitchens.
5. High-technology Appliances
Another technological component, that is a sure shot winner in a modern day Modular Kitchen are high-tech kitchen appliances. More and more homes are including technology in every corner of the house and the kitchen is no exception to this rule. With the best of built-in Ovens and refrigerators available, you can never go wrong if you decide to convert your kitchen into a modern one. Moreover, this trend will help in keeping the design uniform and ensure all the elements merge into one in the finished modular kitchen.
Apart from being aesthetically appealing, Modular Kitchens are highly functional and convenient. With the growing culture of eating out and fast food, an attractive kitchen will also motivate people to cook and eat healthily. So don't wait for the next MasterChef season to compel you into cooking, reach out to the best Modular Kitchen Dealers and encourage yourself!