Prominent Features Of An L Shaped Kitchen
Planning to remodel your kitchen? Let us break it down for you. Workspace design and layout are the basic foundation of any construction process. The layout is a fundamental aspect that determines the productivity and comfort level of any space. Placement of the things and belongings is influenced by the former. With so many kitchen layout options and designs available, why does the L shaped kitchen stand out from the rest?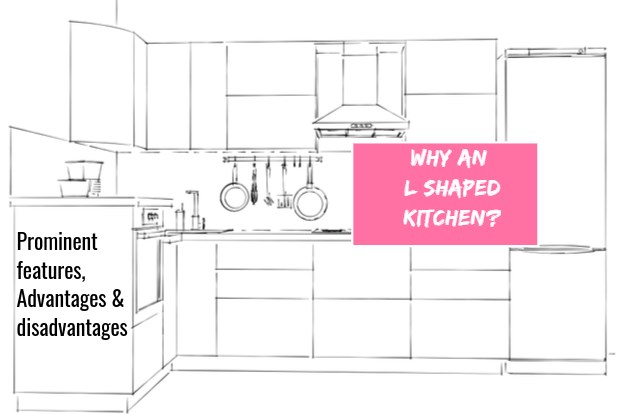 The L shaped layout has been voted as one of the most popular kitchen Layout idea and one cannot agree more. This layout has been around for ages and is the perfect solution for smaller and medium-sized kitchens. This layout makes efficient use of every corner and breaks down the workspace into smaller sections. The mere L shape makes for an efficient working triangle when it comes to preparation, cooking & cleaning activities. L shape layout usually occupies one corner of a large space and is fitted on the adjacent 2 walls, thereby creating an L shape.
Here are some significant features of an L shaped kitchen Layout that will convince you to get one!
Efficient use of space
This layout is the most versatile pick as it adapts to the various floor designs. It adapts as well as makes smart use of space for the appliances, gadgets and kitchen equipment. This provides maximum flexibility in terms of comfort and productivity.
Open area concept
The open kitchen style is slowly gaining momentum in India and L shape layout is an ideal pick for the same.
Excellent work triangle
L shape layout revolves around the concept of an efficient work triangle. It offers easy movement between stove, refrigerator, and sink.
Increased productivity
L shape layout reduces the hassles by providing maximum comfort and functional usability. The placement on the equipment on one end and a separate cooktop on the other end keeps the kitchen clutter free. People who spend time in the kitchen often would relate and benefit from this.
Eliminates traffic flow
As L shaped layout is fixed in the corner, it has two open corners enabling multiple entries. This allows free movement without any space crunch, thereby eliminating traffic flow in the kitchen.
Pros and Cons of an L Shaped Kitchen
If you are considering to rebuild your kitchen or opt for L shaped kitchen layouts, here's a list of pros and cons that might help you make a sound decision.
Advantages
An excellent option for open kitchen plans
Ideal for small & medium kitchens
Eliminates traffic flow as the kitchen area is divided into smaller spaces
The work triangle is applicable enabling smooth movement of activities
Increases productivity
Efficient use of space
Comes in a variety of designs and sizes
Disadvantages
Not suitable for larger kitchens as it affects the efficiency with its placement arrangements
This won't be convenient for kitchen with multiple cooks
Takeaway
Overall, L shaped kitchen is an efficient model when compared to other layouts. It makes great use of every corner, enhances the kitchen appeal without making it look overcrowded.
Talk to our professional kitchen modular dealers to know more and upgrade your kitchen experience.