World Food Day 2020: Grow, Nourish, and Sustain Together!
World Food Day is observed on October 16 every year to celebrate food and commemorate the establishment of the United Nations Organization's Food and Agriculture Association (FAO) on Oct. 16, 1945. Its main objective is to create awareness about obesity and malnutrition due to hunger. This year, October 16, 2020, marks the 75th anniversary of the Food and Agriculture Association (FAO). The theme is "Grow, Nourish and Sustain. Together" to encourage and celebrate farmers- the 'Food Heroes' who provide food for us, promote awareness of sustainable agriculture practices, and ensure adequate access to nutritious food with global solidarity.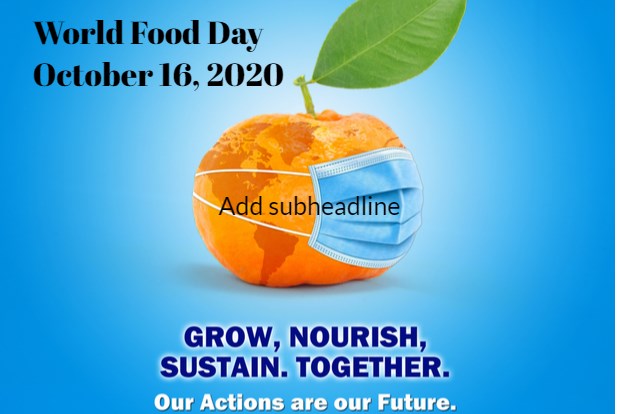 The UN Sustainable Development Goals
One of the Sustainable Development Goals set by the UN is to end hunger, achieve food security, and improve nutrition while promoting sustainable agriculture. Currently, around 45% of deaths among children are linked to undernutrition, and the UN Sustainable Development Target 2.2 focuses on meeting the internationally agreed targets on wasting and stunting in children below five years of age by the year 2025.
Some Insights on the World Food Day and Its Significance
The United Nations FAO has 150 member states, and they all participate in the World Food Day celebration by organizing different activities and events to promote a healthy lifestyle and end hunger. This brings together governments, businesses, NGOs, media, and the general public to help people who can't afford a single meal a day.
Malnutrition and obesity are the two major health issues caused due to insufficient or excessive nutrients from an unhealthy diet resulting in health problems. As per the FAO report, over 2 billion people worldwide lack access to a safe, nutritious, and sufficient world. And with the ongoing Covid-19 pandemic and restrictions, food access has become further complicated for people, and the malnourished children or adults would be the worst affected.

Significance
World Food Day reminds us that our responsibility is to create a healthier, more sustainable, and resilient food system. When you say the food system, it is vast and includes all the people, resources, and activities required to get food from the field to our tables. Right from farmers, truckers, food processors, workers, grocery store owners, and chefs to food safety inspectors, everyone is an integral part of the food system. Thus we all play an equal role in promoting the environment's sustainability by using our natural resources judiciously and treating our food heroes respectfully.
Covid-19 Pandemic and the Food Crisis
The world has been gripping over this Covid-19 pandemic and the need for World Food Day to prompt action is more vital amidst this gruesome situation. While nearly 690 million people face starvation, the pandemic could add 83 to 132 billion more people due to several restrictions and the economic stagnation. This year, the importance is laid on growing a variety of food nourish the growing population and sustain the world together. Besides the governments, businesses, and private sectors, it is each individual's responsibility to work for the same. The theme 'Grow, Nourish and Sustain Together' implies growing healthy and high-quality foods in a home garden, nourishing healthy, diverse, and seasonal foods, and choosing local foods for sustainability. Together, join initiatives and learn about healthy, sustainable, and resilient food systems.