Safety Measures & Tips for Shifting during Covid-19 Pandemic
The Covid-19 outbreak has changed our lives and everything around us. Shifting homes within the city can be a cause of concern during this gruesome situation of the COVID 19 pandemic. Unless it is unavoidable and essential in this current time of crisis, moving to a new home shouldn't be encouraged and considered. It can be a safety hazard, so one has to understand the potential risks involved in it and can avoid the same. In case of shifting amidst this crisis, caution must be taken to avoid the transmission of the Coronavirus and one should follow the guidelines issued by the World Health Organization (WHO) and undertake the precautionary measures at the time of shifting to evade the spread of infection. Right from sanitizing your hands and things to following social distancing mandates, all the safety measures have to be undertaken while relocating to a new house. Experiencedpackers and movers within the city will help you have a stress-free and safe shifting.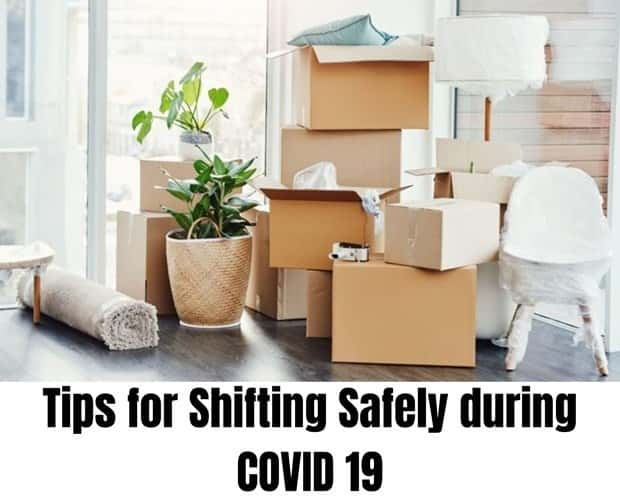 Here are some top home relocation tips and guides during the Coronavirus pandemic. These tips and suggestions are precautionary and ensure that all necessary steps are followed to stay safe.
Move to a Safe Zone
Make sure the place you are planning to relocate doesn't fall under the containment zone and it is not too close to a containment zone. There is an adverse health risk associated with it and this will be a big issue while moving. Do thorough research and find out the area you are planning to move is safe and of less risk. After analysing the density of cases in the area, move to the relatively safe zone where the precautionary measures are followed properly.
Go Digital
Unlike taking a house tour in person as it was done in the pre-COVID-19 world, it is advisable to do the virtual home survey by video calls and discuss the estimate during this pandemic. Avoiding physical contact with people and staying indoors is most important to avoid the transmission of the virus, so take a virtual tour of the place and try completing the paper works and other procedures digitally. Carry out meetings through phone or video calls and clear your doubts. Ask the service provider to send the terms and conditions digitally and prefer using the digital mode of payment for transactions. Also, discuss and be clear about the cancellation policy in detail before you book the packers and movers in case you postpone your shifting plan. Thanks to the technology and professional packers and movers, your shifting process will be made easier, safer, and stress-free.
Deep Clean and Disinfect Thoroughly
Precautionary measures and sanitization should be carried out and followed properly at both ends. Ensure that the new place you are planning to relocate is thoroughly cleaned and disinfected besides deep cleaning and sanitizing your existing place. Clean and disinfect your home to render a risk-free and safe environment to professional packers and movers though they come equipped with their sanitization gears. Sanitize and disinfect the potential threat areas in your house like doorknobs, doors, handles, windows, furniture, kitchen utensils, slabs, lights, switches, and other things.
Keep Social Distance to Stay Safe
Always try to maintain a minimum of six feet distance with the workers while packing, loading, and unloading things during relocation. Regularly wash or sanitize your hands and wear masks, gloves, and face shields throughout the shifting process. Keep elderly persons and children in a separate room to avoid the risk of infection until the whole shifting process is complete. Keep your windows and doors open and ensure the home is well-ventilated during the process. Wash your hands and also request the service providers to do the same, frequently, throughout the shifting process.
Hire the Proficient Packers and Movers
Stay cautious and double sure while hiring the packers and movers services. As the deadly virus can easily spread from an infected person or contaminated surface, it is vital to pre-plan your shifting and know about the preparedness of the shifting services you hire. Enquire if the professionals undertake and follow all the safety measures like wearing masks, gloves, boots, and sanitize all their kits during the shifting process. Complete clarity on the entry of movers and packers is essential before you book as there are restrictions in many societies in the wake of this global pandemic. Inquire how many professionals are allowed inside your campus- only 3-4 individuals are allowed rather 6-7 persons as allowed earlier for shifting processes.
Last but not least, disinfect your new home before unpacking things. Deep clean and disinfect your furniture and other belongings before moving to the new place. Dispose of all the packing materials, cardboards and plastics carefully in an isolated area without any human contact as suggested by the Centers for Disease Control and Prevention (CDC) as the virus has the potential to be active on cardboards for up to 24 hours and on the plastic for about 72 hours. It would be safer if you leave them on the balcony/terrace or in the open space untouched for 3 days before discarding. Spray the disinfectant in every nook and corner of the newly moved house before setting up your furniture and other decor items. Hiring professional packers and movers within the city to help you with pre-planning and move-in cleaning tasks would be beneficial as it is an excellent time-saving option for a safe and efficient shifting. With the current restrictions and safety guidelines given on the outbreak of Covid-19, it is essential to follow the necessary mandates released by the government and act in accordance with your local areas' restriction guidelines.
Connect with the bestpackers and movers for a safe and stress-free relocation within the city through Sulekha, the fast and free way to find experts.