Before you pick up your roller or paint brush to dip it in your favorite color, let's break it down and start with the basics. Painting is a time-consuming job. Prepping everything in advance is always beneficial as it lays a strong base for a beautiful crisp looking wall. For a long-lasting and smoothly painted wall, proper wall surface preparation is essential. Grab your painting tools to get started!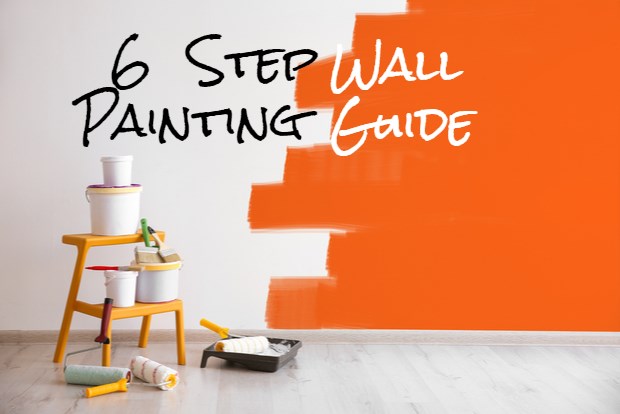 Clear it up
Move out all the belongings be it furniture, mattress, and other essentials from your room. If you find it difficult to move it out, place the belongings in the center of the room and get it covered with a cloth or plastic. This will give you ample space to create your workstation as well as prevent any paint stains on your belongings. For a smooth surface, unscrew all the wall hangings and fixtures along with the nails.
Cover and Tape it all
Cover the floors using a drop cloth to avoid any stains on the floor due to spilling or dripping of paint. Use a blue painter's tape to cover up spaces and edges that you don't want to paint. You can either apply the tape in a uniform single row or cut it down in multiple shorter pieces for complicated nooks and corners. Once you apply the tape, use a putty knife to press it down gently. This will ensure that the paint won't leak underneath by any chance.
Window prep
Don't forget to cover up the window panes. Use a builder's paper which is much more coarse and sturdy. It already has an adhesive to it. This just ensures that the paint won't drip on your window panes.
Prep the wall
Here is where the main action starts.
Use a wall primer- A good coat of primer lets the paint glide smoothly and the color stands out even better. Depending on the type of paint you choose, switch up the primer accordingly. For oil-based paint, an oil-based primer must be used. Latex based primer works well with other types of paints. One can skip the primer if you are applying a darker paint shade on an existing darker paint.
Cover the nooks and corner- An angular nylon brush measuring 2-3 cm is ideal to paint the trims and edges near the switchboards, ceiling edges, window corners, etc.
Foam roller- A W shaped foam roller measuring 20-25 cm gives good coverage. This way you can complete the wall much faster. Let the primer dry for one complete day.
Sand and clean
Once the primer has dried down, use sandpaper to dust even out any bumps. And clean any stains, if noticed.
It's time to paint
This is the most satisfying and relaxing part of the whole process. Depending on the type of paint you are using, start applying even layers. Work patch by patch and let it dry completely before you apply the second coat. Also, don't forget to remove the paper types once the painting is done.
While you are all excited and about to get started, take a moment and connect with a professional painting expert to know and purchase the right kind of paint for your home!