Color Psychology and Paint Tones
Color Psychology and Paint Tones
We all have our favorite colors that excite us, wearing our favorite color dress brightens up the mood, isn't it? This happens for other colors too; our brain subconsciously associates certain moods with colors. This technique is used in branding, people easily tend to identify brands and color-related to them. It is cleverly branded in a way that next time you see a particular color the brand comes to your mind, and this is termed color psychology. It states that colors can induce emotions and perception in humans. Indeed, it is true that the paint colors of your house have an inevitable impact on the mood. Here are the popular paint color tones and the emotion they represent. Read and figure out the best colors for your house.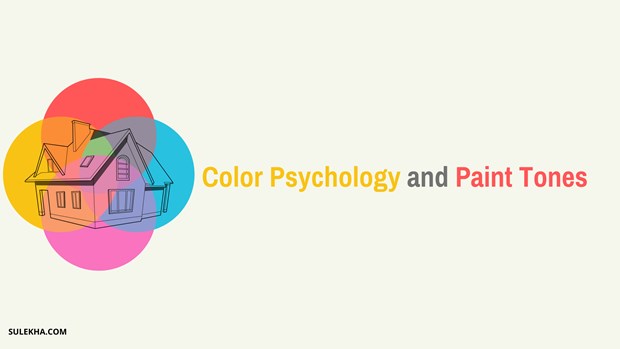 The Happy Yellow
Most people love the sunshine and claim that it induces a positive vibe. This is what the yellow color does, it represents optimism, happiness and radiates energy. The living is where the whole family gathers and is a commonly accessible place in the house. It is recommended to paint it yellow, as it brings in a sense of liveliness and positivity. You can go for subtle hues of yellow to avoid over brightening tones.
The Calming Blue
The blue color is associated with calmness and is believed to have a soothing effect. Few researchers say that the color can reduce high blood pressure and normalize breathing problems. Comparing it with the properties, experts advise that blue color is the best for bedrooms and office spaces. It not only looks calming but also is a decent choice of color. Be aware of which hues of blue you pick; light or pastel blue can make the room feel very cold and gloomy.
The Classic Gray
The gray color is a classic pick of all time. It reflects a sense of compromise and discipline. If you are looking for a well-balanced color this is a great pick. By choosing gray you don't have to worry about extreme looks, it evens out and looks best with warm hues of furniture. It seizes the eye when used in combination with any color.
The Energetic Red
Red is often used to represent rage, extreme levels of harsh energy. But few shades of red bring in a sportive and active vibe. It is also the color of love and courage. This color has a lot of properties linked to it and you have to be careful in finding the correct shade. The red color looks good for rooms meant for gathering or party rooms. Strictly avoid using it for bedrooms and personal space. Going for the wrong shade may create an irritating ambiance.
The Soothing Pink
Do you know what is the pink effect? It states that pink instills calmness and is used in prisons to calm the inmates. It boosts creativity and a sense of kindness. Pink is the best for kids' rooms, play areas, and any creative workspace.
The Royal Purple
The color purple produces a rich vibe, it adds a dramatic and luxurious tone to the house. Different hues convey different meanings. Light purple tones give a sense of relaxation and dark purple looks more sophisticated. Use only lighter tones of purple such as lavender in the bedroom. Dark ones look pretty when used in the living room.
The Outstanding White
Although many avoid white tones fearing the absorption of dirt, the color creates amazing wonders. It makes the room feel more spacious and larger. Go for off-white or combine white with warm color borders.

We understand how difficult it is to pick colors for your house. After choosing, it is also important to give it a proper finish for a perfect look. Hire the best painting service providers on Sulekha and witness magic.