Eco-friendly Diwali Practices- Every Effort Counts!
A cracker free Diwali alone doesn't do justice for the word Eco-friendly Diwali. There are plenty more ways in which we generate waste in the name of festive celebrations. Can you recall the sight when you step out of the house, the next day after Diwali. The streets are filled with ashes from the crackers, papers, diyas, burnt candles etc. Diwali is a festival symbolises to drive away from the darkness and evil forces from one's life. This Diwali lets light up the houses and hearts without harming the ecosystem.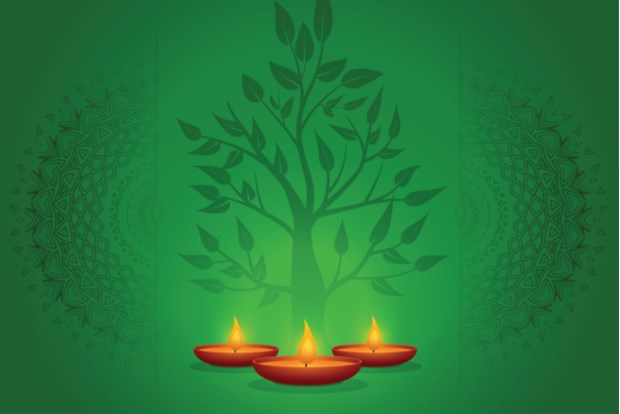 Go green with some basic eco-friendly Diwali practises this year. Here's how-
Buy earthen diyas instead of Chinese lights
It can be tempting to buy those eye-catching Chinese lights, lamps etc made of cheap quality plastic. But hold on! Don't give in to your temptations. An added electricity bill is not something which pleases us. Also, these lights won't make it till next year Diwali celebrations. So, why not embrace the traditional earthen diyas to brighten up your house. The market is filled with so many fancy looking diyas and candles but a simple earthen diya's charm is unbeatable.
Stop burning your hard-earned money on firecrackers which has no purpose. Instead,
indulge in real festive celebrations by spending time with your loved ones. Enough has already been said about climate change and the damages caused by bursting crackers. Eco-friendly crackers are relatively new. If you can get your hands on them, go for it!
Choose eco-friendly paints
Most households prefer cleaning and repainting their house every year during Diwali. People leave no stone unturned to go all out when it comes to festive celebrations. Remember, even house paints are loaded with toxic chemicals. Make the right choice this time and opt for eco-friendly paints from reliable painting contractors.
Floral rangolis are always a visual delight. If you love using colorful powders for making rangoli, use natural colors and mix it with the rice powder. Refrain from buying rangoli powder filled with chemicals. Also, did you know that earlier rangolis were made using rice powder to feed the birds.
For gifting options and sweets, instead of buying it do it yourself. Go all organic this Diwali by not buying plastic sweet boxes and gifts. Buy handmade sweets packed in paper/bamboo or glass boxes. Choose succulents or indoor plants as Diwali gifts. Saving the best for the last- prepare all those mouth-watering desserts yourself for your loved ones.
Diwali guests pouring in? Ditch those plastic plates this time and opt for biodegradable crockery. Banana leaves are again back in trend post the plastic ban. These small initiatives end up making a huge difference.
Stepping out for festive shopping? Carry your own jute bag. Resist your urge to buy fancy looking things made of plastic. Buy things that you know can be reused again. Avoid buying one-time use things.
Share the festive joy with those in need. Declutter your house and donate the things that are useable by others. Buy diyas, lamps, handmade greeting card from NGOs as Diwali gifting options. No better feeling than lighting up a person's face in need.
Change is never easy. All it takes is a little effort to understand the importance of eco-friendly practises and how to celebrate a festival in its purest form. Wishing everyone green and eco-friendly Diwali. Do share your ideas and initiatives for eco-friendly Diwali in the comments below.