Textured Paints-A Must For Statement Walls
Textured walls are an interesting addition to any room. If you are looking for ideas on how to have the best statement wall that is both attractive and affordable, then textured paint is your solution. There are plenty of colour options that you can always consider for your décor, but to add something special, consider texturing.
How texture paint uplifts a space?
A textured paint adds a dimension that sets the statement wall apart at the very first glance. Wallpaper cannot add that feel. A textured wall brings in more structure and form to the décor. It enthrals by captivating the immediate attention of the onlooker.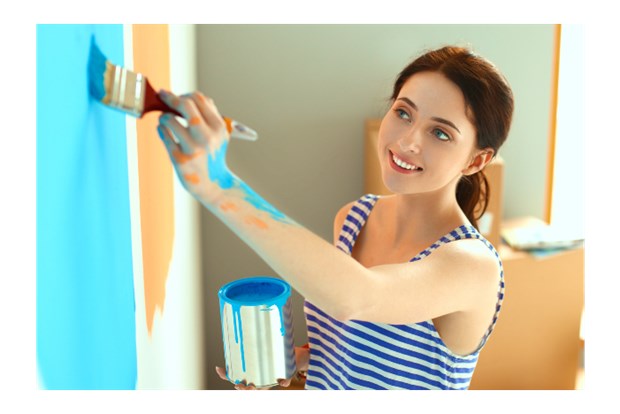 What is texturing?
It is a method of adding a texture to a wall. It can look very subtle or dramatic, depending on your preference.
There is plenty of texture that you can choose from. We have made a list of popular choices to make it easier for you to decide.
1. Rough texture – If you are looking for rustic décor options, then this texturing will fit best. It is also applicable to industrial designs for any room. The texture is identified as bold strokes made with a variety of objects. It can be a rag or even a comb. A combination of objects can also be used to get the desired texture. The preferred colours range from metallic gold, copper-brown and copper to red and white. There is no fixed design rule to follow, and you can paint in any direction.
2. Faux bricks – The charm that a brick wall holds is certainly difficult to replicate. This style is a bit complicated and will need professional help. The idea is to make a wall painted with bricks. Followed by embossing the individual bricks for additional depth. Outlining can be done to achieve the same dimension. More simply, the design can be achieved by painting through a stencil with a roller. If you want more depth to the wall art, give it a form. The aptest form or structure you can try out is that of a fireplace. You can also try a mantle design. This wall will surely stand out as an exquisite statement wall.
3. Smooshing – If you like the look of marble. Smooshing is the easiest option to achieve that. To begin with, you will need a good white paint. You can use colour as well, but it may not have the same effect. The paint variety should be of glaze quality; you can try enamel paint. Before the paint dries, a plastic sheet is put all over the paint. It is removed, and this process is called smooshing. Voila, you have luxurious texture on your walls. You can decorate the rest of the room in Mediterranean style for making most of your feature wall. The marble-like appearance will make the room an attraction for all family members.
4. Pastel colour – A fabric finish pastel colour with gentle undertones in lighter or deeper shades will give your room a flowy makeover. The look will be soft and enticing. It is perfect for bedrooms and teenage girls' rooms. An entire cosy ambience will be set by the fabric undertones, and you will have a room where you can relax and wind down.
5. Woodwork – This list can never be complete without the mention of the woodwork. It is one of the most adaptable décor themes. It is quite easy to achieve. However, you would need the help of a professional to execute the entire design project. The depth will be brought out by using different shades of brown, alternated with black. You can match it with a contemporary design or even a traditional look.
Unleash your creative side and add a little drama to your feature wall. Your room will get more depth and character with a textured wall. Like a feature wall, it will be the true highlight of the room. Paint your home this Diwali, choose the best painting professionals in your city