Types of Wall paints explained
It is easier to make a decision when you are well aware about the different types of paints available in the market. Of course, the experts will help you choose the right paint depending on the paintable surface, the effect you want to want to achieve, budget etc. People spend a lot of time deciding the paint shade but little do they realise that a wrong finish can totally ruin its visual appeal. A brief idea about 6 types of paint and its finish should help you make the right choice.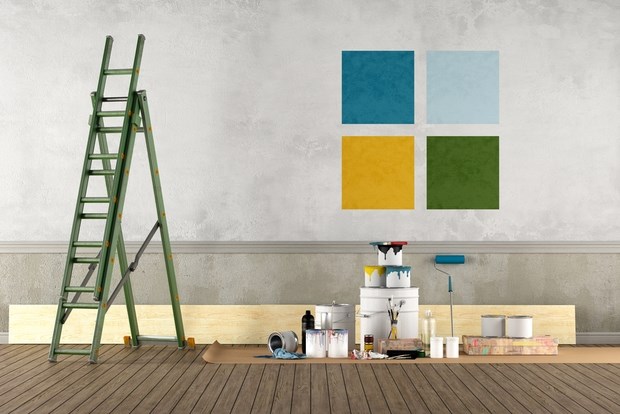 1. Matte paint


Matte paints are usually preferred when you don't want much attention on the walls as it has no shine or sheen to it. This is most commonly used for walls and ceilings. It is easy to apply using a brush or roller and may often require 2 layers of paint to achieve a solid color. However, on the flipside it requires frequent retouching as it can easily get marked.

2. Matte enamel


Matte enamel is pretty much similar to a matte paint but is much more durable. It is great for houses with children as it's easier to clean and does not require frequent cleaning. It can be a great pick for the kitchen walls which is prone to frequent spills. With this paint, you can be stress free about the cleaning and staining aspect.

3. Satin


Satin paints have been in the market for quite some time. It has a finish somewhere in between matte and gloss effect. It has a very subtle low sheen to it. You can opt this paint for walls that you know would frequently clean it. Also, satin paints are not really recommended for walls with imperfections as it makes them more apparent and untidy.

4. Eggshell


Eggshell paints have a subtle sheen but doesn't have a smooth finish like a satin paint. People opt for eggshell over satin as it does not highlight the imperfections. Also, one single coat of paint is enough to achieve a solid color. Eggshell paints cover more surface area in less paint when compared to matte making it an ideal choice for budget painting.

5. Semi gloss


Semi gloss paints have a hard finish and are often used on trims rather than walls. It can be easily cleaned using soap and water. Single coat of paint does the job well. Its sheen is a little less when compared to full gloss paints. In case of imperfections in the wall, fix it with a primer before you paint. This will help in achieving a flawless smooth looking wall.

6. Gloss paint


Gloss paints can be used on most of the walls. However, people shy away from using it due to its high sheen. Keep in mind, gloss paints takes longer to dry. To achieve a smooth looking wall covering imperfections, more than one coat of paint is required.

Now that you have some idea about the available interior wall paints, what are you waiting for? Connect to the best painting contractors at Sulekha, get free quotes and plan your service accordingly. If you happen to DIY, check out paint dealers to buy bulk paints at affordable rates.