Gear Up for a Splendid Family Photo Session
A good picture can help us rewind and re-live moments; it is indeed wondrous magic happy photographs do. Everyone should own a collection of family pictures that will serve to be treasured when you take a look back in the future. While the photography trends have changed and there are numerous creative ways to choose from, it can get a bit confusing how the photo session can be done. In case you don't have a collection of family pictures, it's high time you scheduled a photo shoot. Here are a few tips you can follow to get mesmerizing photographs from the family photo session.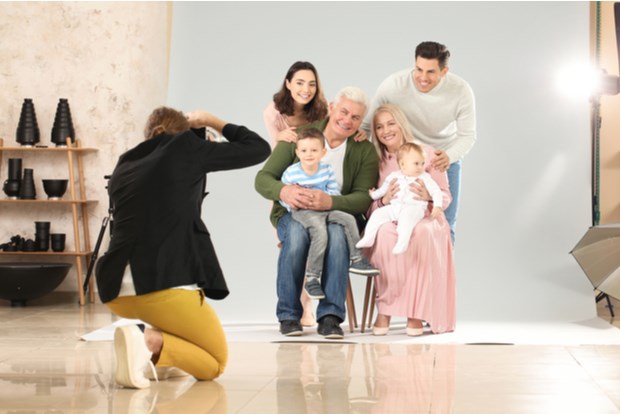 The Date
A family photograph shouldn't miss any important member, and the schedule must be planned to include everybody's routine. Contact a photographer, find out the dates available, and cross-verify if it clashes with your family members' work routine. Prefer booking on holiday, but ensure to book it prior.
The Venue
The venue plays a vital role, and it is going to be the deciding factor of your pictures' mood. You can choose outdoor or indoor according to your preference. If you are going for an outdoor shoot, pack the necessary items for the kids. You can pick a scenic view or ask your photographer for opinions. When you are doing an indoor shoot, plan a theme and communicate it with your photographer. Book a studio that can accommodate the settings you expect and ensure your photograph arranges enough lighting. A prior discussion with the photographer can clear your doubts and choose the perfect location for the expected output.
The Theme and Costume
This is the exciting part, and you can pump up the fun as much as you want. If you have kids under the age of 5, all cute cartoon character themes will look the best. Be careful while choosing the colors and take the help of your photographer to ensure the costume blends well with the location or theme. Get the outfits customized by booking a fashion designer and doing trials at least a week before the shoot. The photo shoot is going to create a bunch of memories that will stick to your heart and house's wall; make it worthy by picking a stunning theme.
It's Time for Candid
Candid photographs have been on the trend graph for years, and you must give it a shot with your family. If you are not up for fake candid pictures, conduct activities that would serve best for moments such as playing at the beach together, having fun with bubbles, etc., and ask your photographer to capture it. This is one of the cleverest ways to get heartfelt shots; never miss a chance to arrange a candid session.
Picking the Perfect Photographer
Choosing the right photographer is the foremost thing you should do. The quality of pictures and the time you will have entirely depend on the professional photographer you choose. Especially when you have kids, they should know how to handle them well and get the desired output you want. Finding the leading family photographers amidst the routines will be a tedious task for you; here we are to get the best one for you. Hire top family photographers through Sulekha and build the ever-cherishing collection of unbeatable memories.