Everyone loves to have that flawless foot! It's always said that summer is the season where your foot needs an extra care, but even winter can spoil the beauty of your foot. Hiding those cracks and unfinished nails? Fret not, there is always a solution for everything and here it goes!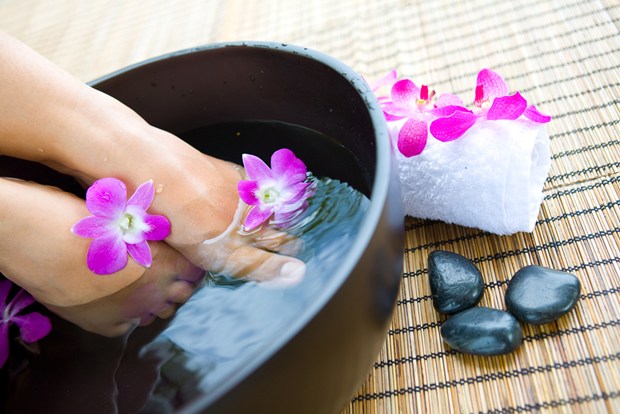 Pedicure is one ultimate luxury statement that you can bless your feet with. Sack up those worries and get ready for a pedicure session. Are you first to pedicure session? Know how the treatment goes:
-Toe-tapering devices like nail clippers, nail file, cuticle stick, scrubbing brush, pumice stone, clear top and base coat, nail polish, water tub and some oil are essential for pedicure
-Second step is to remove the already existing nail polish through a nail polish remover. It's better to use some acetone remover for a complete removal of the old polish
-To soften your foot, fill a tub with hot water and relax for 10-15 minutes. This will soften the lumps and removes the dirt stuck to the legs.
-Next step is to trim down the nails and shape it well and elegant. Use the nail file to buff down the sharp edges
-Use the cuticle stick to push back the cuticles around every nails. Rub it gently with cuticle oil for experiencing that smooth pattern
-The rough edges are made soft with the buffing pad in a regular direction. This will make the nail look stylish and neatly trimmed
-Choose the nail polish color and coat a layer
-Give a final polish to make the foot look tremendously adoring
Health Benefits
-By doing a pedicure if there are any dead skins cells are removed. It is removed by doing a foot scrub and this will make the nails look clean and tidy
-Through a foot massage, there is a healthy flow of blood that keeps you active and relaxed
-You can keep your feet away from infections, because foot is the area where germs get easily attached and thus pedicure will help to prevent your feet from diseases
-The moisture content of the skin remains in form as it is soaked in warm water the skin opens up and cleanses the inner surface of the skin
-The best part is the massage that rejuvenates the entire body and relieves the stress level
Get ahead to the nearby Beauty Parlor and go for a pedicure session to lift up the sparkle of your foot!
Source and Image: Net