Whether you are hosting a movie night at your place or presenting a business seminar, a big-screen presentation will certainly create a lasting impression. For movie enthusiasts and gamers, a projector can give more screen size in comparison to a television. It's a great way to share presentations with large sized groups. Use this buying guide to know about different types of projectors and their features to find a suitable one that fits your needs.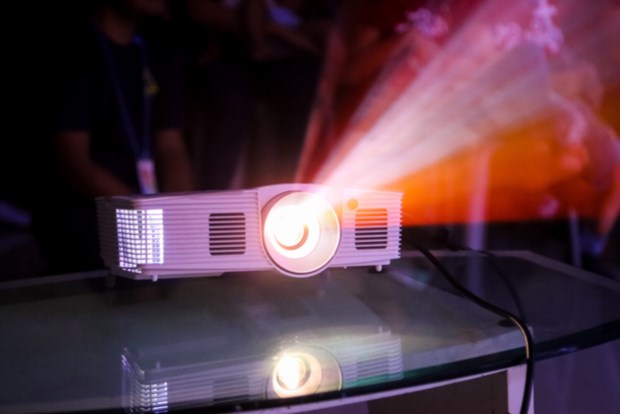 Types of projectors
DLP Projectors
Digital Light Processing (DLP) projectors project images through a series of tiny mirrors which tilt either towards or away from the light source, creating light or dark pixels on screen. There are two types of DLP projectors: single-chip DLP and three-chip DLP.
Single-chip DLP projectors are the most common type of projectors and produce sharp image. Single-chip DLP projectors come equipped with a color-wheel which quickly rotates between the primary colors to create an image. The drawback of this is that you may sometimes see a rainbow effect where the image is broken up into red, green and blue images, which is quite annoying while you're watching a movie.
Three-chip DLP projectors don't have such color-wheel issues because they come with a dedicated DLP chip for each color. The downside of this projector is that it is much harder to align each and every panel, resulting in more intricate designs and ultimately they are much more expensive projectors. For this reason, three-chip DLP projectors are usually found in high-end situations like movie theatres where they are worth the money.
Advantages:
They are lightweight and compact projectors (especially the Pico models)
Portray a film-like image from DVD, Blu-ray and HDTV sources
Ensure smooth motion for videos and fast-action scenes
Deeper and truer blacks than the LCD projectors
High colour contrast
3-chip DLP provides even higher picture quality
LCOS Projectors
Liquid Crystal on the Silicon projectors provides a completely different take on projection. They shine light through a panel to create a picture. Light in the LCOS projectors is reflected off from three individual panels and then combined to produce the image. Because of their ways, they produce the deepest blacks with the highest contrast ratio. The disadvantage of these projectors is that the image isn't as bright as other projectors. These projectors struggle to produce enough light to create an immersive image. LCOS projectors also generally have more issues with motion blur than other projectors, though that's generally only noticeable in fast-motion scenes.
Advantages:
The resulting video images are smooth as silk.
The pixel edges seem to be smoother with the sharp edges on micro-mirrors in DLP.
LCOS projectors can deliver green, blue and red simultaneously on the screen.
LCD Projectors
Liquid Crystal Display (LCD) projector, is kind of a middle-ground between the DLP and LCOS projector in terms of advantages and disadvantages. It is not quite as bright as DLP projectors, but it is brighter than the LCOS projector. It is better at producing fast motion than the LCOS projector but not as good as the DLP projector. And, it produces deeper blacks than the DLP projector, but the contrast ratio is not as high as Loops projectors. LCD projector is also more affordable than LCOS projector.
Advantages:
Brighter output in well-lit rooms
Impressive colour brightness
Sharper images for data presentations and detailed graphs
Vibrant 3D images without any image ghosting
More energy efficient and quieter than the DLP projectors
Most LCD projectors have 3-chip LCD technology (3LCD) for good image quality
Features of Projector
Resolution
The more pixels involved in making up an image, more will be the details so that the image looks clearer especially when you are showing large images. The shape is also determined by how the pixels have been laid out on the page.
Different Types of Resolution:
Full HD (1920x1080): This is Full HD or 1080p, if you are showing an image or video or if you have a good budget then this should be your first choice. The shape is 16:9 which replicates the modern tablets or monitors, allowing more to be shown as a widescreen image.
WXGA (1280 x800): WXGA describes a resolution of 1280 × 800 pixels with an aspect ratio of 16:10. This standard is becoming rare due to more standardized and more economical-to-produce 1366 × 768 panels.
XGA (1024x 768): It a pretty old resolution that people used to buy as they have had this before. It has an aspect ratio of 4:3 which doesn't really allow you to replicate the modern monitors.
WUXGA (1920x 1200): It is very popular resolution for the businesses who want a true HD quality. Prices tend to be higher so it is not for everyone's budget but these projectors have lots of added features than just a large clear image. The format is 16:10 like WXGA but much improved in quality.
UHD (4096x2160): Though it is an improved resolution, the prices are still out of the reach of most of the users.
SVGA (800x600): Only few manufacturers produce this resolution and the quality is awful. `Most modern projectors struggle to show it and you will end up with a projector which cannot support things you link to it.
Brightness or Lumens
Brightness is an important consideration when you purchase a projector. A few years ago, buying a high brightness projector of up to 3000 lumens was expensive and now, you can get 3000 lumens as standard and the price actually jumps at 5000+ lumens point.
Contrast Ratio
The contrast ratio is a measurement of brightness between the black and white tones. The higher the contrast ratio, the deeper will be the darks and the brighter will be the whites. That is great when it comes to televisions and projectors. There will be more detail in a picture which will create a more immersive viewing experience. This feature is especially important for home projectors. In dark rooms, the contrast is more noticeable than it would be in brightly lit rooms.
There are different types of contrast ratios to consider. There's the regular "contrast ratio," and the "ANSI Contrast," which refers to a special way of measurement in which the contrast is determined through a black and white checkerboard pattern. ANSI Contrast is much better indicator of the actual contrast ratio that you'll see while viewing movies, so, the projectors with regular contrast ratio measurement may have a higher value which doesn't mean that they are better.
Lens Zoom
Projectors aren't made to be set at a certain distance from the screen you're projecting onto — instead, they can zoom in and out to accommodate a range of distances. The lens zoom feature allows you to adjust the size of your image. The bigger is the lens zoom, the bigger can be the image.
Keystone correction and Lens shift
Keystone correction allows you to manually distort any image so that it appears perfectly square on a surface despite being projected on an angle. Images can be easily shifted up, down, and sideways so that even if you're projecting on a some angle, you will be able to get a good image. Lens shift also addresses the same issue, but it does this in a much better way. It basically adjusts the lens angle instead of digitally shifting the image, as keystone correction does. The main advantage to this is that lens shift retains the complete resolution of the image, resulting in a better image as compared to keystone correction.
3D technology
You will be surprised with the fact that you don't just get 3D videos from television or cinema hall, but also from the projectors. However, you must keep in mind that buying a projector only on the basis of the 3D feature is not advisable. You also need 3D glasses along with the 3D enabled projector to ensure complete entertainment. The 3D glasses can be both active shutter and passive ones, depending on your needs.
Inputs and Outputs
Regardless of the type of projector you are purchasing, you will need a way to connect PC, phone, speakers and other devices to it and that's where the inputs and outputs come in. There are different types of inputs and outputs commonly used on projectors. Here's is quick rundown on them:
HDMI ports are the most commonly used inputs for projectors and televisions these days, which are of super high-quality standard that combine both the video and multi-channel audio into one. HDMI ports are also found on computers and there are numerous adapters for connecting a phone to an HDMI port.
DVI is another common port that exists in a few different versions. There is a digital DVI-D port, the analog DVI-A, and the hybrid DVI-I port which transfers both the digital and analog signals. DVI is used on desktops, though not often on laptops.
Composite is little less common these days, but can still be available on some projectors. Composite splits up the signal into a video connector and two audio connectors for left and right channels.
VGA is an analog connector that has become slightly less common in present time. These connectors are a little large and bulky, but if you're using a computer which has a VGA connection, a VGA connection on projector can come in handy.
3.5mm connector is used only for audio, so, if you have a sound system that you want to connect with your projector, this connector can be used.
Wi-Fi is a very popular connectivity option when it comes to streaming content to projectors rather than having to use physical cables. Wi-Fi connectivity is used in conjunction with an app, or sometimes smart projectors can simply stream contents from the Web.
Popular Brands of Projectors in India
Dell
IBM
Sony
Motorola
Canon
Samsung
Epson
BenQ
Hewlett-Packard
3M
Panasonic
Acer
Philips
Kodak
Casio
Best Projectors in India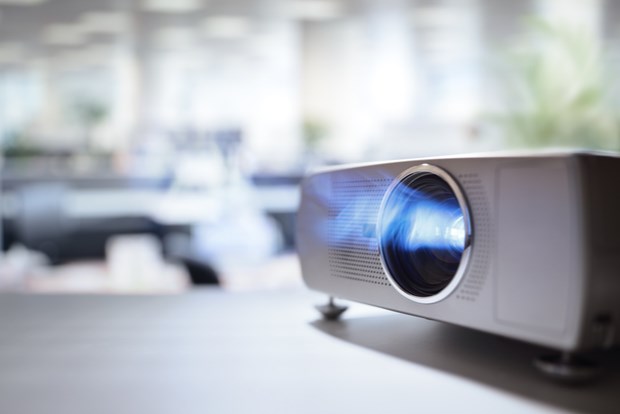 1. BenQ MX528 DLP 3300 ANSI-Lumen XGA 1024 x 768
This is the most advanced projector if you talk about the image quality and advanced media support such as Blu-ray disks. It supports resolution of 1024 x 768. BenQ MX528 is a DLP type projector.
Specifications:
Digital Light Processing projector
Resolution – XGA (1024 x 768)
Smart Eco technology for energy saving.
Dimensions are 28.3 x 22.2 x 9.5 cm
Blu-ray playback with full HD 3D support
Lamp Save Mode to ensure lower replacement cost
2. Epson EB-X31 Home Projector
It is the best quality projector with wireless support to project images for smartphones or tablets.
Specifications
Boasts stunning brightness of up to 3,200 lumens and has a high contrast ratio of 15000:1
Dimensions are 37.5 x 17 x 36.8 cm
iProjection application allows a wireless connection for projecting images from your smart devices
The easy-to-use Horizontal Keystone Adjuster performs screen corrections which can be done quickly, easily and precisely, even in very limited space
HDMI, VGA and LAN ports
With control of a host PC, around 50 terminals can be easily connected via multi-PC projection.
3. UNIC UC46 Uni-Link Wifi LED Portable Entertainment Projector
UNIC UC46 is the bestseller product in India in video projectors category. It is bestseller simply because of its range of features as well as price which fits in everyone's pocket. The best part of this projector is that it can display through a Wi-fi by UN-link OS technology.
Specifications:
Native resolution is 800 x 480
Brightness is 1200
Dimensions 15 x 20 x 7 cm
Connects play station PS3 PS4 or X-Box ONE Wii via HDMI port
Wi-Fi display by UNi-Link OS
VGA / HDMI / USB / SD Card Ports
4.UNIC UC40+
It has the lowest price in this list but still it has a lot to offer.
Specifications:
Play Movies, Games or give presentations with image projection up to 130 inches with 800×480 high resolution
800 Lumens and 800:1 is the contrast ratio
Has HDMI, AV, USB Ports
Can be projected on a large screen up to 130 inch
Projection distance is 1-3.8 meters
5. Egate i9 LED Projector
It is a LED/LCD type projector having 800 x 480-pixel resolution. It is also a great option to buy but in a lesser price UC46 is available with Wi-fi connectivity which is amazing.
Specifications:
Resolution is 800 x 480
40000 hours long LED lamp life
120 inches large screen display
Direct play from USB
Multiple interface HDMI/VGA/USB/AV/SD card/audio out
Best for Home theatre projection from set-top box, DVD, blue ray and pen drive
Projector Maintenance
You must clean the projection window and the obstacle sensor periodically
clean the air filters and air vents to prevent overheating due to blocked ventilation
The only parts that need to be replaced are the lamp, air filter and remote control batteries.
If any other part needs replacing then you may contact authorized projector service providers
Before cleaning any part of the projector, you must turn it off and unplug its power cord.
Never try to open any cover on the projector, except if it has been specifically explained in its manual.
Do not try to service the projector yourself, it is always better to take services from a trained professional.
Buying a projector can be an arduous task and you need to keep the above things in mind before investing in one. With several projectors such as LCD, LED, 3D, Portable, DLP projectors, make sure you pick the one that fits your needs. Also, find the best projector services in the city.