7 Types of wallpaper To Look Out For!
Looking for a small budget, big makeover? Wallpapers are your safest bet! When it comes to redecorating, wallpapers still continue to be a popular choice. It helps with an instant home makeover with little investment and effort. With the changing times, there are tons of wallpaper designs and patterns available out there. However, the base of the wallpaper is pretty much the same. Before you break your head on which one to buy, here are 7 different types of wallpapers to know about.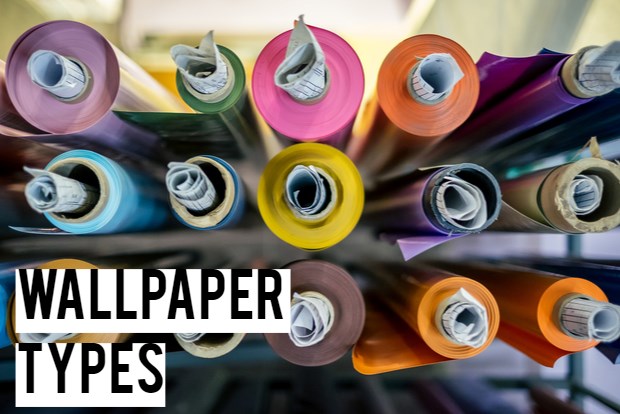 Vinyl wallpaper
Owing to its versatility, vinyl wallpapers are one of the most popularly used wall covering. These are easier to install, maintain, clean and are comparatively affordable. It usually comes with a printed skin of vinyl with a plastic upper coating which is stuck on to a base layer of paper. Depending on your needs, one can prefer to choose from the available vinyl wallpaper types namely vinyl coated, solid vinyl, paper-backed vinyl, and fabric backed vinyl. It is ideally suitable for kitchens and bathrooms due to its condensation and steam resistant properties. However, avoid using it in bedrooms and poorly ventilated spaces as it tends to extract toxic fumes over a period of time.
Non-woven wallpaper
Made out of a blend of natural and synthetic fibers, non-woven wallpapers breathable and one of the latest trending wallpapers in the market. It is tear resistant and also doesn't expand/ contract while installing making it a user-friendly option. This also acts as a great base for painting and is expensive comparatively.
Fiberglass wallpaper
This is comparatively a little new and popular finishing material in the interior decoration market. Fiberglass wallpapers are incredibly strong as they are made from natural materials like dolomite, quartz, silica, lime, etc. It is one of the most durable wallpaper which can be used up to 30 years. Some of the key properties Also, popularly known as glass cloth wallpaper is eco-friendly, flame resistant and helps to maintain the natural climate of the room.
Embossed wallpaper
Embossed wallpaper is a perfect addition to brighten up your living space. It adds an interesting dimension with contrast textures ranging from soft prints to vibrant geometrical structures. People mostly prefer earthy tones like cream, stone, browns, etc. that perfectly blends with the existing interiors. Embossed wallpapers work well with uninformed walls that have defects such as cracks, scratches and roughness. However, it comes with its own set of disadvantages like difficulties in gluing it, peeling it off with a possibility of damaging the wall plastering.
Natural Bamboo wallpaper
Bamboo vines are stacked and glued on a paper to create a wallpaper that gives it a paneling look when installed. This not only looks attractive and offers versatility but is an eco-friendly option too. It is best advised to use bamboo wallpapers in areas that have less moisture retention, unlike kitchens and bathrooms. In terms of maintenance, gentle dusting and vacuuming are recommended. People looking for a muted yet attractive wallpaper can consider trying this out.
Liquid wallpaper
Liquid wallpaper is an emulsion which is applied on the walls using spray guns and special pallet. People who are looking to conceal minor wall defects can opt for this. It usually takes 24 hours to completely dry and is packed with good thermal, sound insulation and moisture control properties. One has to be cautious as it can easily get rinsed off with water. On the flip side, works as an advantage for people who like switching up the wall designs every now and then.
Textile wallpaper
Textile wallpaper is a premium quality product made out of various fabrics like linen, cotton, silk, feathers, etc. It provides superior insulation properties but can be a hard task to apply on walls. Natural textile wallpapers are made of natural fibers and can be a little on the pocket. Synthetic textile wallpapers give a similar look and effect without using natural fibers. If you are looking for something that looks luxurious and exclusive, this should be your pick.
Now that you have a fair idea about the different types of wallpapers available in the market, go ahead and make your choice. Connect with wallpaper expert dealers on Sulekha for an exclusive and customized service.