Curate A Visually Cohesive Wall Gallery
Planning to create a beautiful wall gallery? Don't start hammering the walls. Here is a list of things you need to consider to create a visually cohesive as well as beautiful wall gallery for your living room wall to awestruck your guests. Consider these seven common elements before flaunting your art or photographs. Creating a wall gallery can be exciting but creating the visual cohesiveness is scary all at once.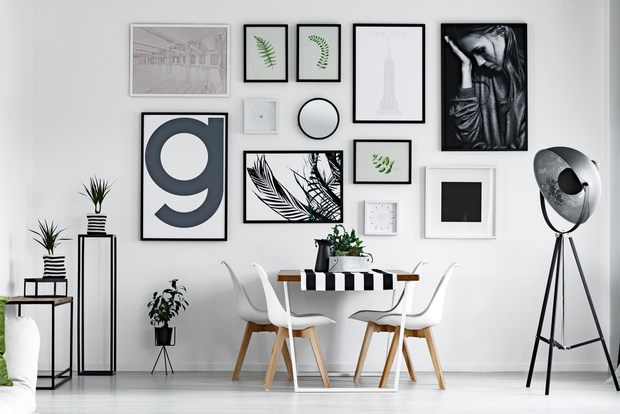 1. Scope out the suitable space
It necessarily not need to be a big loft to create a wall gallery to display lots of photos and artwork. Look out for a clean canvas which is not disturbed by any obstructions like vents, switches, thermostats. The gallery wall makes the room more interesting and decorated feel without even taking any floor space. Flaunt your memorable, proud and funny memories with a mesmerizing wall gallery.
2. Pick multiple pieces that showcase a particular art style
You need to be very particular about every single piece of the art that you pick for the gallery wall as it plays a huge role in creating the overall look. Try picking many different pictures, illustrations, and artwork that holds something similar to each other. Many people choose a theme for their gallery wall before selecting the artworks.
3. Decide on the arrangement style
The gallery walls can be arranged in two different styles. One is the grid style which is very neat, formal and crisp while the other is the eclectic style which is more of relaxed and personal style including a various range and sizes of art pieces.
4. Framing is the key
Frames are the main factors that elevate the look of even an ordinary art or picture. The frames take responsibility for creating that visual cohesiveness in the larger context of the wall. You don't necessarily need to rely on a single type of frame instead mix it up with different textures, colors, and age.
5. Plan out the frame placement
The final step before hammering is to do a practice run. Cut out charts of the same size as the picked pieces including the frame. Stick the chart pieces on the wall to check if the overall look and feel are good. Make adjustments to the layout if required and maintain an even spacing (ideally between 1.5 to 3 inches) between every piece to create even and professional look.
Get in touch with the best interior designer to get more interesting ways to decorate your home. Hire the best interior designers in Chennai, Bangalore, Delhi, Hyderabad, Mumbai, Ahmadabad, Kolkata, and Pune.