How to Cool Down Your Home This Summer without AC
India has witnessed this summer which was the second hottest seasons ever in history, according to the global climate report published by the US National Oceanic and Atmospheric Administration (NOAA). The report also says that the world is passing through an accelerated warming phase. Air conditioners can make our homes cool but make our earth even hotter next year.
Here is a list of changes that can help you keep your home cool this summer without AC.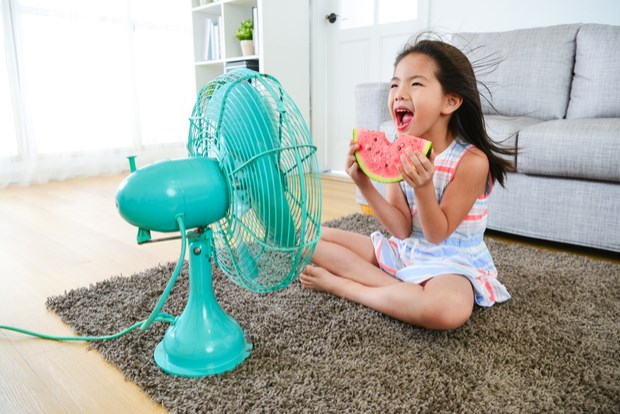 Set your ceiling fan for summer
If your ceiling fans blow hot air around the room, then check the direction of the rotation. Clockwise rotation is for winter whereas anti-clockwise rotation is for summer. Get an electrician to change your ceiling fan settings so it rotates anti-clockwise to take the hot air up. This can create a breezy chill effect and cool you down for about 3-4 °F.
Avoid traditional incandescent bulbs
Even a 100-watt incandescent bulb in a small room can increase its temperature by about 11°F in an hour and waste 80% of its energy in producing heat. It is better to avoid these traditional bulbs and replace it with LEDs and CFLs. They reduce heat and also save your electricity bill.
The best choice is to allow the natural free light inside your home during the daytime which saves energy and brings healthy vibes to your house. Minimize the use of LEDs even at nights.
Use windows the right way
Mostly, 30% of the heat inside the house comes through the window. Windows are tricky and if used properly, may reduce heat. Follow these rules to keep cool air in.
Know the timing – Keep your windows open between 6:00 AM to 6:00 PM, which is after the sunset to early sunrise.
We need mild natural light but not heat.

If your window is made of glass, you can use a transparent insulating film. If not then, you can build or set a 6" low sunshade.
Blinding the west-facing window can lower much heat while the other ones allow light.
In case of the balcony, use a traditional jute screen which allows mild air and light. It also adds a beautiful, inexpensive and natural texture to the house.
These changes can reduce the temperature inside your home by at least 20 °F
Don't cook!
When there is plenty of heat outside the house, avoid creating heat inside. Cooking is inevitable but attributes towards increasing the heat. Proper ventilation such as chimneys and exhaust fans are essential items that would help. If your chimney has problems repair your chimney before summer arrives. It is important to blow out the hot air that is produced inside the house to keep it cool.
Cross-ventilate
Cross ventilation is a naturally cooling method that let the cool air in and hot air out through windows. It is one of the important rules in vastu. If your home is not built with the help of a vastu consultant, then you must try one when remodeling your house next time. It is an Indian architectural science that comes in line with nature's laws. For now, you can keep a fan across the window to create a cross breeze. You should also keep note that it works only at 6 to 6 timing.
Heatproof your roof
The top of the building undergoes the overheating during harsh summers. This heat is absorbed by the roofs and will make the house hotter inside. It is important to insulate the roof. Here are few ways to insulate the roof
White lime wash – This reflective layer is cheap but can easily be washed by the rain. You will have to repaint it for next summer. You can also paint your exterior walls with white.
Use cool roof coatings – these are cement made or plastic coating that improves solar reflectance. This can reduce about 60-70 % of the heat.
PVC Sheathing – Apply a single ply sheathing to the roof which is heat, water and windproof. A reputed expert in PVC sheathing that can give you a warranty for 15 years.
Solar photovoltaic roofing panel – This is a double advantage that heatproof your roof as well as produces energy to your house.
Foam insulation – Install a layer of solid foam insulation under your roof.
Rooftop garden – These terrace gardens reduce the temperature of the roof as well as the air around it. Choose a reputed contractor who comes with waterproofing too.
If you have asbestos film is low sloped to improve reflectivity.
Grow plants and trees
If you have space around your home, plant a tree or you can opt for potted plants. Plants such as Aloe Vera, areca palm tree, snake plant (gives off oxygen at night), and money plant can cool down your house. These plants undergo a process called transpiration where they lose water which cools down the atmosphere around it and also removes impurities present in the air. You can even grow plants on walls now which is known as vertical gardening.
We can lower the heat of the house to an extent with these simple hacks. Keep it necessary to talk about these concerns to your interior designer while constructing or remodeling the house.