The Top Six Monsoon Healthcare Tips
Monsoon days are back, so is the need for extra care. In addition to the threat of the COVID-19 pandemic, you now have the responsibility to prevent you and your loved ones from the outbreak of other flu and diseases. Generally, our body is more susceptible to becoming weak during the monsoons, and it is vital to crafting a proper healthcare routine. We have put together the must-follow top six monsoon healthcare tips.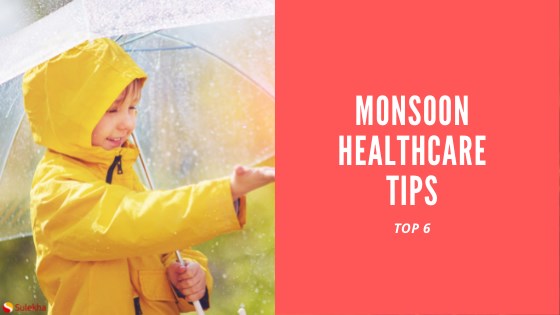 Adequate Water
We don't get thirsty often during monsoon and assume that our body manages to stay hydrated. Intake of water will ensure that your body has adequate fluids and energy. Since there are a lot of chances of water contamination and the presence of bacteria, it is advised to drink boiled water.
Say No to Junk
Eating junk and outside food may lead to direct exposure to bacteria and germs as you might be unaware of the environment it is cooked in. Having home-cooked nutritious food will aid in digestion. Don't consume fizzy drinks as they reduce your mineral content in the body.
An End to Unclean Environment
We encounter frequent news and awareness, stating the outbreak of fever and flu during the monsoon season. It is necessary to concentrate on creating prevention measures and equip ourselves to handle the spread. A clean environment is key; get rid of stagnant water pits and any open places to mosquito breeding. Don't let your walls and furniture get exposed to too much moisture; this will invite fungus and molds, which can cause serious health issues. Avoid unnecessary leaking of water, hire the best waterproof contractors to stop it immediately.
Use Insect Repellents and Disinfectants
During the monsoon, the surrounding is prone to insects and harmful infection. Use insect repellents and take care of your skin. Spray disinfectants around every corner of the house.
Mind the Temperature
It can get cold and increase the spread of the fever. Refrain yourself from unwantedly using the air conditioner and use only when needed. Carry raincoats and an umbrella when you go out to escape from unexpected rains. If you get drenched in the rain, immediately change to a clean pair of clothes after refreshing and drink a cup of hot herbal tea or coffee.
A Healthy Diet Chart
The right food is the best medicine for every season. To strengthen your immune system, start preparing a diet chart that includes exercising. Have vegetables and fruits rich in proteins and vitamin C. Experts recommend bitter foods as they help cut off the toxins from the body. Another way to induce the growth of good bacteria and gut health is to consume probiotic food such as yogurt.