5 tips to improve your child's handwriting
Yearly exams are nearing, the role of parents are really challenging because they seem to be the real students who are going to face the exams. Preparing the kids for cracking good scores, teaching them the doubts, making them learn daily etc. It's indeed a hard job to push children and divert their vision to books, books and books. Amid the hectic timetable, if your kid's calligraphy is becoming poor everyday how does it feel?
Stop worrying; here are some 5 tips that can make your kid's handwriting crystal-clear and beautiful.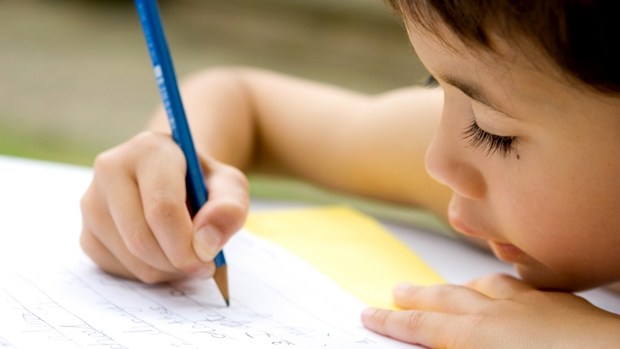 Start with finger writing
This is the oldest form of handwriting practice that is given in schools during our pre-school playgroup. Start this practice for your kids, give them the muscle skill and make them write letters. This way you can correct their handwriting. Even research reveals that it's the best way to make kid's handwriting neat and clear.
Find the problem
While doing the first method, you can identify where your kid faces the problem. Is it during joining the letters? giving space between the words?, lining words on a page? Etc. Each problem has a different solution (for example, if your child faces problem while forming letters then take a tracing paper and make her practice).
Exercise the fun-way
Be it practicing handwriting or learning a math lesson, kids cannot learn it with interest unless a bit of fun is added. So better lead then the fun-way! Give them a paper and pencil and ask them to write some favorite foods they like to eat, or give a theme and ask them to brainstorm and write the words. They will find it interesting and will think and write the words neatly.
Choose the right tools
Even the stationery tools matter a lot! If you kid is facing problem in holding the pencil then choose some smaller kid sized pencils or markers. Make them practice in these small pencils and give them a neat and smooth eraser to correct whenever needed.
Make them hold grip
Some kids doesn't know to hold the pencil while writing, they might hold it lose or over tight. Both can make the handwriting go worse. Better help them to hold the pencil in the right way and then given them these practices.
With these five tips being practiced every day, you can expect a change in their lettering. Still if your child is facing trouble, then you can contact Handwriting Classes in your locality and make them attend it for at least an hour every day.
Source and Image: Net