Interior Elements of South Indian Chettinad Houses
Chettinad is the region of the south Indian State called Tamilnadu. It holds the wealthy clan of traders called Chettiars. These people are such a source of art. They are already known for their authentic foods and spices. One of the other remarkable segments of their artistic work is their architecture. Most of the south Indian movies and series don't miss to show the beauty of Chettinad architecture.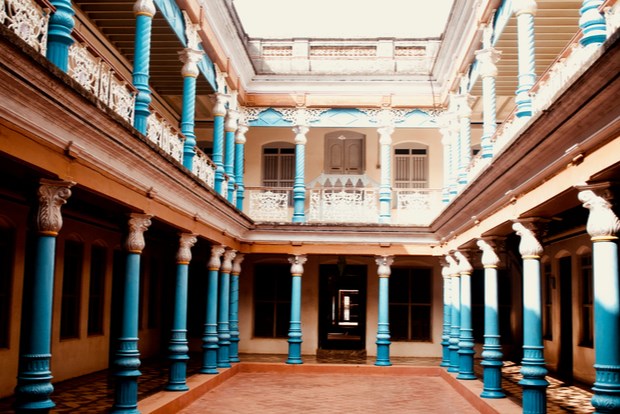 Here are some of the beautiful elements of this grand architecture
Intricately Carved Pillars and Front Door
The pillars are made of teak, granite, marble or iron to showing the wealth of their family. The raja palace which was built in 1902 is known for its pillar which is a single piece of wood that stands above 10 feet. It is also said that previously the old hollow pillars were used for storing precious gems. The front double door has a carved picture of Laxmi and nine precious gems were buried under the threshold. It is made of Burma teak which is very predominant among Chettiars.
Wall plastering
Most of the Chettinad buildings were built using the type of limestone called "Karai veedu". These buildings were plastered with a wall plastering called "vellai poochu" which is known as Chettinad plaster. It is a composite mixture of lime, base, powdered white seashells and egg white.
Athangudi Tiles
These handmade tiles are a treat for your eyes in a myriad of colors and patterns. These tiles carry the rich heritage of the Chettiars of that era. These tiles are made of the locally available clay which is burnt and glazed. It is intended for flooring, wall cladding of interiors and exteriors.
Courtyards
Open-air courtyards are mandatory in a Chettinad house. It consists of pillared corridors run on each side that leads into individual rooms which are meant for married sons. This is continued with three courtyards. The second courtyard is dining, third and fourth is for kitchen and women.
Architectural Layout
The architectural layout of their house has the following segments. It is segments of Chettinad houses with their Tamil names are
Portions – Kattu
Reception – mugapu
Living halls of each family – pattalai
Living area – valavu
connected rooms - Irattu veedu
Corridor – nadai
Dining – irandan kattu
Kitchen – Moonam kattu
The houses are built to accommodate every event like marriage, birth or any other events. It is built with a "thinnai" which gives space for the travelers to sleep at night and allows children to play.
Stucco Work
The Chettiars house holds its own style of sculpture. The stucco work in the entrance tower and compound wall is an impeccable piece of art. It is mostly gods and goddesses themed. Gajalaxmi is the predominantly sculptured on the top of the tower which represents protection and prosperity.
These unique pieces of art dominate the whole Chettinad land. Even after so many years that ruined, many houses are still standing carrying its glorious culture. Even though this type of architecture is in extinction, the love and respect for this never end. But, you can decorate the interior of your house with the help of an interior designer or architect who can reproduce such authentic artistic dwellings.