Tips to Design Luxury Home Interiors within a Budget
Who would not love a luxuriously designed house? But the only thing that comes as a significant block to this idea is the cost it takes for the design. Most of us think it would cost our life to design a beautiful and aesthetic interior, but the fact is that this can be achieved at a very low cost. All you need to know is a few tips and tricks that will help you achieve an elegant and luxurious look for your house. It is also important to find the right Decor and Furniture that would best suit the interiors and the overall look of the house. The following are some budget-friendly and innovative interior design ideas that would help you achieve a dignified and beautiful look.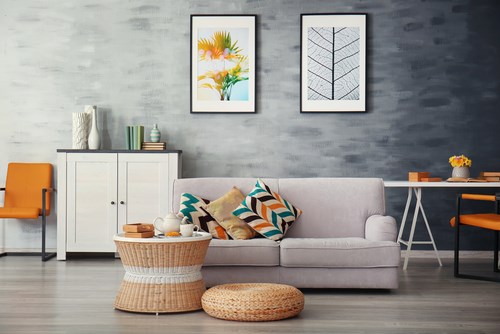 Assign a designated space for things
No one would like to see disorganized things while entering the house. One always feels good and peaceful in a tidy and clean room rather than a messy one. It is important to declutter the space and set a space for every object in the room. Minimalism is the key. A neatly organized room with less yet sublime elements would give the room a classy and rich look. Ensure to discard every item that is of no use for an extended period of time. Iron wall hooks or a small key stand made of wood would be a great addition to the space. A stylish yet compact storage cabinet for newspapers, books, and magazines would also be attractive.
Say No to bland and boring pillows
If you haven't changed your pillows for a long time, now is the time to ditch them for new ones because it is not going to favor your Interiors anymore. Do not have the same colored and textured pillow; rather, go for a scatter of metallic, patterned, and textured ones. It is very important that you stick to the color scheme before choosing to replace them. Pillows can keep you and your guests cozy and comfortable. Always prefer a pillow that is 8 to 12 inches
The major thing that would enhance your decorations or act as a base for your interiors is the color of the paint you choose for your walls. A wall painting can either make your house look bright and luxurious or make it dim and dull. So it is mandatory to choose the right color palate that best suits your interior decoration plans. You can paint the dark walls light and vice versa to boost the effect. Going for wallpaper would cost you more, and as a more effective option, you can go for textured painting and try out painting techniques like color blocks and sponging.
Glam up the space with exquisite art pieces
People always believe that art pieces are expensive and cannot be afforded. It is not true. You can find a lot of budding artists who give masterpieces at a very low cost. You can find them in art exhibitions, local markets, social media platforms, and online stores. Before buying an art piece, you should first analyze your interior design. If you have gone for a light shade of colors and minimal décor, you can choose a sublime piece of art. But if you have chosen a maximal style, you can go for a wild and bright art piece. You can also opt for a gallery wall if you have only limited décor options.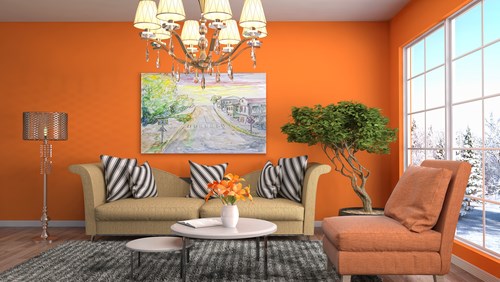 Lighting up a space is very important. Poor lighting can spoil even the best of interiors. Good lighting can be a great addition to your interiors, and it is one of the affordable options. You needn't go for high-end lights but choose to opt for some designer lights that are cheap yet elegant. LED lights are preferable because they are budget-friendly and have a longer lifetime. To cut down your expense, you can go for second-hand lights that work in good condition and are sold in the market. Other effective options include track lights, pendants, and recessed lighting. Always try layering the lighting in your house. Choose overhead lighting that would best suit your interior design and the paint. Then go for a floor light if needed or a simple table lamp that is both functional and a beautiful addition.
Spice it up with appealing window dressing
Windows are a major part of Interior design, for almost every room has a window which can sometimes be out of place for the design you chose for your room. You can still make it useful and attractive by dressing it up well. You can groom these windows by trimming the curtains on the sills and framing the glass panes. More height can be added to the room by placing the curtain rails closer to the ceiling. The next step is to add curtains to the windows. You can use an extended curtain with neutral colors to make it more attractive. You can also replace curtains with window trim for a perfect look.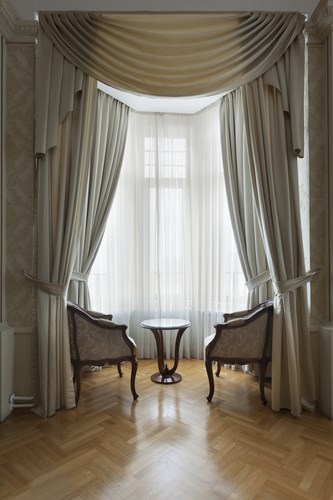 Accessorize the space effectively
Adding good painting and lighting options is not enough for perfect interior décor, but it is also important to accessorize the space effectively for a perfect finish. Even a small piece of accessory would make a significant difference in the decoration of the house. A beautiful flower vase, an aesthetic chandelier, exotic trays, comfortable cushions, and much more. If you are a traveler, you can add your souvenirs as a part of your interiors. Indoor plants can be an attractive addition to the house interiors and help you save a lot of money. These plants add beauty to the house and act as great air purifiers. Adding a lovely carpet or an attractive centerpiece rug can also bring a luxurious look to the house. All these accessories will not only be great additions but also help cover up old furniture and rags.
Start designing your dream house with these budget-friendly tips. Follow Sulekha.com for more innovative ideas on
Interior Designing.