5 Important Sanitization and Disinfection Tips
The Covid-19 pandemic outbreak has affected the whole world and impacted the lives of people in different ways. Winning a battle against this pandemic is not easy, and we need to take certain precautionary measures to keep ourselves safe and healthy. Staying indoors, maintaining a distance of at least 3-6 feet while stepping outside, wearing masks, cleaning hands using sanitizer or soap, and strictly following government rules and procedures are significant to prevent the spread of this deadly virus.
Of all things, regular sanitization and disinfection practices play a vital role in protecting against all types of bacterial, viral, and fungal infections. It is to be noted that sanitizing a space is different from standard cleaning as sweeping and mopping remove dust, whereas sanitizing kills the germs and bacteria. Therefore, disinfect and sanitize your living or commercial space consistently to keep yourself safe and virus-free.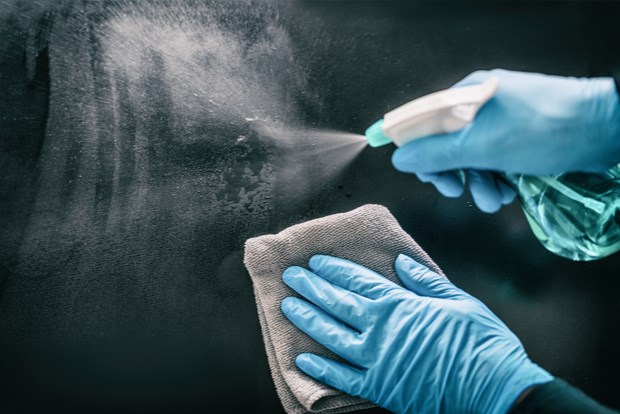 Here are some essential sanitizations and disinfection tips to stay clean and keep yourself protected from Coronavirus.
Use Right Sanitization Materials, Tools & Equipment
Different types of disinfectants are required to sanitize different surfaces. Disinfecting agents like bleach, alcohol-based, and phenyl-based all purpose-cleaners can be used to disinfect windows, floors, and other hard surfaces. Detergents are used to cleanse sofa covers, cushions, couches, and other upholstery. Don't forget to wear protective gloves while using disinfectants, as these are harsh chemical compounds that can harm your skin.
Take Precautions while Handling Cleaning Products
Learning how to disinfect a space and handle products is the initial step towards sanitization and disinfection. Also, you should know the precautionary measures for safety and security. Below are some preventive actions to keep you safe during disinfecting.
Keep your doors and windows open to avoid inhaling the odor of cleaning substances
Always wear a mask, rubber gloves, or other types of protective gears, and boots while cleaning
Avoid mixing bleach and other cleaners or touch these chemicals with your bare hands as they can affect your skin and body
Don't handle other objects immediately after sanitizing as they can contaminate them
Stay cautious while using disinfectants in the kitchen
Disinfecting and Sanitizing Rooms
Use phenyl and disinfecting liquids to clean floors. Apply floor cleaner first and then wipe again with a disinfectant. This way, the floors are kept clean, safe, and germ-free. Clean all hard surfaces with multi-purpose surface cleaners, which are readily available in the market. While using bleach, make sure you mix the proper proportion of bleach to water, which is approximately 5 ml in 1 lt. Use detergent and warm water for washing the sofa, pillow covers, and other upholstery. You can also add vinegar to remove stains in water.
Sanitizing Kitchen
The kitchen is the soul of the house, and keeping it clean and neat is important for the safety of your family's health. It would be best if you also were extra cautious when sanitizing or disinfecting a kitchen as it has eatables and volatile products. Most of the cleaning products are harsh chemical compounds that can affect your skin and body. It might also land you in trouble when residue is indirectly transmitted to drinking water or your food.
Use soapy water or an all-purpose disinfectant to clean the kitchen sink, cabinets, platform, and other metal or wood surfaces. Mix a spoonful of bleach in a bucket of water and wipe the kitchen top. Use branded dish soaps with anti-germ properties to wash utensils and wipe up other surfaces that have direct contact with food. Make sure you clean fruits and vegetables in running water or warm water. Never use soap or any other disinfectant as they leave soap residues even after cleaning them many times with water and can be harmful. For cabbage and other leafy vegetables, remove the first 2-3 layers of leaves and use them.
Bathrooms Cleaning Hacks
Phenyl or bathroom cleaners can be used to disinfect the floors of a bathroom. When it comes to bathroom cleaners, there are many good quality brands available in the market now from which you can pick the best one. Do clean washbasins, bathtubs and, other such surfaces with all-purpose cleaners and wipes. Use toilet cleaners separately to clean toilet seats.
Other Important Things to Remember:
Avoid touching any switch or running electric appliances while working.
Keep the children and elderly family members away while disinfecting or sanitizing your house.
Identify the high-touch surfaces like countertops, tables, light switches, doorknobs, chair headrests, TV remote, computer keyboards, mobile phones, faucets, sinks, etc., and handle them carefully.
Don't forget to decontaminate entrance lobbies, escalators, elevators, corridors and staircases, security guard booths, etc., in the apartments and office spaces.
Clean all metallic surfaces like security keys, locks, machines, etc., with 70% alcoholic solutions.
Frequently touched areas like intercom, elevator call buttons, chair handles, handrails, tabletops, etc. should be cleaned at least twice a day.
Stay home and stay safe with the above tips to keep your house or office clean. Get some essential insights like these on how to disinfect or sanitize your house or office if you are cleaning them independently. You can also use sanitizing services to clean, sanitize, and disinfect your home or office through Sulekha.
Get trained technicians equipped with world-class equipment to disinfect your residential or commercial space at Sulekha and have a hygienic and safe environment.