Overview - MS in Computer Science Abroad
A course in computer science covers a vast range of specialization for students from computer programming, video games, multimedia, human interaction with computers, IT security, health informatics, cloud technologies, and more.
A Bachelor's or Master's certificate in Computer Science and IT covers ideas of Computation, Software, Hardware, and Computer Systems, each following advanced, in-depth knowledge as the students climb through their educational curricula. To be a sound software engineer, you should also be interested in subjects like Mathematics and Algorithms, which you'll utilize more often than not. During the courses, students will learn how to apply algorithms into code, how to create software that blends well with different operating systems, and discover how digital networks functions and connects users. Proper software development can make or break a product, and global companies don't take chances with under qualified computer professionals.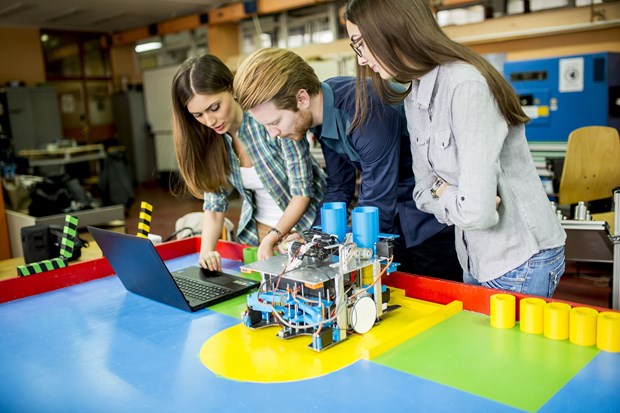 Why study MS Computer Science Abroad?
Top colleges of the world for MS in Computer Science offers students with the top-notch structure of education by which they can be thoroughly equipped for planning and programming computer applications. With a solid fundamental understanding of innovation and data science advancement, Computational hypothesis and practical knowledge improve a student's capacity to perform better in the field of Computer Science.
In today's market, computer science graduates are one of the most desired workforces employers are looking for, with plenty of opportunities and salary offerings to choose from. Some of the most common job roles of a computer science graduate are:
Application developer
Game designer
IT consultant
Software engineer
Web developer
Cybersecurity analyst
Benefits and career opportunities
There are numerous benefits of studying masters from abroad, but keep in mind that the field of computer science has seen fierce competition in the global market, and getting admission to top colleges or companies after your course will be a tight affair.
Nevertheless, you can get an assured seat in international college by clearing all eligibility criteria of the university as well as the country with some help. The level of quality education is par from what you can expect from a technology college in India, also with the advancement in the technology department, many new courses are available around the world that are still looking to enter the Indian education system. Most companies will be acquiring students from technologically advanced countries regarded to be brilliant; the potential of students who graduated from English speaking countries can be seen in places like Silicon Valley.
MS Computer Science in the USA
The USA is considered as the Mecca of computer science courses. As more and more students incline towards computer science, more opportunities and disciplines of computer science are being introduced for specialization in this field. Most colleges in the US will have an Indian Students Association (ISA), which helps approaching international students to help them pick the right courses. ISA and other international student associations will become your family away from home and make your stay more enjoyable for sure.
Top colleges to pursue MS computer science in the US are:
Massachusetts Institute of Technology (MIT)
Stanford University.
Harvard University.
Carnegie Mellon University.
University of California, Berkeley (UCB)
MS Computer Science in the UK
A degree in computer science from the UK will help you get recognized by hi-tech companies looking for quality computer professionals. With places like Bristol and the Southwest that hold several technologies leading companies, UK is an excellent place for networking in the computer science field. Best universities to pursue an MS in CS from the UK
University of St Andrews
University of Cambridge
University of Oxford
Loughborough University
Imperial College London
MS Computer Science in Australia
There are many advantages to study in Australia, some of which are easy immigrations, job certainty, better economy, skill gap, and global opportunities. MS in computer science from Australia is comparatively more affordable, even in top-class colleges. IDP institutions are beneficial in getting overseas students assured admission in the continent country.
Top universities to pursue MS in computer science in Australia are:
Monash University
University of New South Wales
University of Melbourne
University of Queensland
MS Computer Science in Canada
Canada's reputation of pristine colleges, a great environment, and diversity in its culture has made it the top education destination for international students. Apart from world-class technology colleges, significant benefits of doing MS in computer science from Canada are low-cost tuition fees, work at the same time, post-graduate work permits, and a better lifestyle.
Top universities to pursue MS in computer science in Australia are:
University of Waterloo
Queen's University
McMaster university
MS Computer Science in France
Relatively low tuition fees, highly rated university system, and unique culture have made it the 4th most popular study destination of the world. Few significant benefits of studying computer science from France are, English proficiency test is not required, excellent jobs paid internship opportunities and post-study work visa for up to 2 years. According to the last year's reports, more than 90% of computer graduates got jobs during their final year of course.
Top universities to pursue MS in computer science in France are:
CentraleSupelec
Universite Paris Saclay
Universite de Lyon (ComUE)
Sorbonne Universite
MS Computer Science in Germany
When it comes to education, Germany has always been ahead of its time, fully embracing digitization and increasing the demand for Computer Science and IT experts in all specializations. You will receive quite a professional training in this country that is keen on receiving international students to prepare a future-ready workforce. English taught computer science courses, affordable tuition fees as well as the cost of living, generous salaries for 5-star computer engineers, and a globally recognized degree to get you jobs in tech companies in no time.
Technical University of Munich
RWTH Aachen University
Karlsruhe Institute of Technology
Technical University of Berlin
LMU Munich