Step-by-step Procedures Involved In Sanitizing Services
Maintaining a clean and germ-free environment is as essential as self-cleanliness, especially during pandemic outbreaks. The parasitic viruses live in the surroundings irrespective of any materials, causes severe health infections when we get into contact. Hence, a proper inspection and cleaning are required to lead a healthy life. It is effectively carried out by the sanitizing services offered by the service providers at Sulekha.

The expert sanitizing companies will clean up residential houses, individual homes, corporate offices, warehouses, factories, schools, colleges, hospitals, vehicles, etc.

Complete sanitization service
Generally, house sanitization is an intricate task where one has to carefully handle several nooks and corners of the house to provide a germ-free environment. Besides, one has to be aware of proper sanitization service before taking up the work. The regular cleaning which we do every day is not enough to wash away the viruses. Professional sanitization has to be applied with essential chemicals to ward off infectious organisms.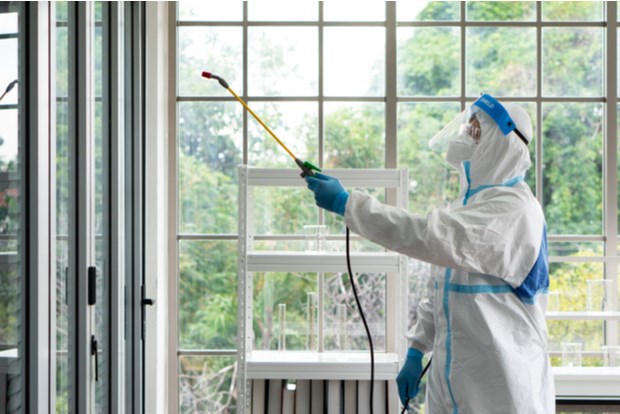 Things to remember during sanitization
While opting for the sanitization service, make sure your company equips its employees with the right materials.

It is mandatory to wear a pair of rubber gloves and a strong disinfectant along with other cleaning tools such as cloths, sponges, brushes, vacuum cleaners, and brooms.
The cleaners should handle the electronic spaces such as switchboards, computers, and other wire bound areas with utmost care.
Kindly do not touch any electrical appliances while the cleaners are on duty and do not allow children or elders to the cleaning spot.
Ensure the workers clean the most vulnerable areas at your home like doorknobs, wall corners, toilet areas, lofts, etc.
If the workers are opted for cleaning offices, then the prominent areas to disinfect are gyms, elevators, security areas, gaming areas, stairs-railing, etc.
Step-by-step procedure to clean several areas in a home:
Bedrooms and dining rooms:
First and foremost, clean the rooms with the help of brooms. Further, make use of vacuum cleaners where the broom cannot clean effectively. Vacuuming the sofa, bed, cushions are essential.
Clean the doors, doorknobs, and windows with a dry and clean cloth.
Dust the electronic appliances with a dry cloth
Post-cleaning, add the suitable disinfectant in a bucket full of water and clean the floor with mops. Use a mild soap-water solution and a sponge to clean all the material surfaces, especially the high touching points.
Use a disinfectant to wash all these places with a sponge or small piece of cotton cloth.
Let this dry naturally.
Kitchen

Kitchen sanitization follows the same process as a separate room, and you need to keep special attention in certain areas of it:

Give a special concentration for the sink as they are the primary source of infectious spreads.
Clean the stoves and cooking floor with a wet cloth and dry them.
Completely take off all the materials from the fridge and take off the connection. After this, wipe them with a wet cloth and clean them.
Why avail of a professional sanitization service?

The professional sanitization workers rightly know what disinfectant should be used for which place. The concentration of the disinfectant is decided based on the individual area requirements. They also use neat and clean materials to disinfect house and corporate offices.

With the help of professional sanitization services, you can also make sure the area is protected against viruses and other infectious organisms for a period of at least three months. If you are looking to opt for expert sanitization services, scroll through Sulekha's page and get in touch with our service providers.