6 Reasons Why You Should Choose Vinyl Over Wooden Flooring
Owing to the durability, aesthetics and grandeur attached to wooden flooring, it had been the chosen type of flooring for many years. However, with the advancements in technology, we have come up with a cheaper, effective and synthetic replacement for the mighty wooden flooring, Vinyl! Even though these are less durable when compared to the real deal, the considerable difference in cost have been attracting a lot of buyers to this alternative.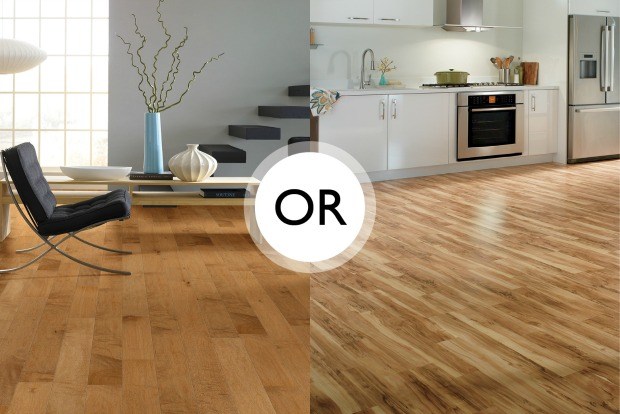 Let's look at a few differences between hardwood and Vinyl flooring which might help you choose the most suitable option:
1. Appearance
It goes without saying that the natural wooden flooring is timeless and cannot be entirely replicated in its looks. Most people also claim that a real wooden flooring can easily be spotted from a vinyl imitation. But, luxury vinyl is now providing strong competition by offering a near perfect replica at one fourth the price!
2. Cost
Hardwood is an expensive flooring option. Even though cheaper options like plywood and pine wood are available in the market, these materials are generally not preferred as flooring. Engineered hardwood is another cheaper alternative to wood. But this does not offer the same kind of durability.
Cost of the vinyl alternative to wooden flooring is considerably cheaper. Even high quality, luxury vinyl is cheap compared to hardwood. Also, these days, any kind of wooden print can be imitated on the synthetic vinyl flooring.
3. Durability
Even though wooden flooring is synonymous with durability, it is good to note that this durability is a result of high maintenance. The finish of the flooring when laid and the type of wood used are also determinants of durability. A highly durable wooden flooring usually comes with a big price tag.
Vinyl on the other hand, though less durable when compared to wood, is so much cheaper than wood that it works out more cost effectively. Long lasting, high quality vinyl floorings are also available in the market these days.
4. Resale
While hardwood flooring adds to the resale value of your house, vinyl flooring does nothing to it. Even if the wooden flooring has had some wear and tear, it can be restored with minimal effort. Whereas, vinyl once worn out would have to be completely replaced. However, the flooring has minimal impact on the total cost of the house and should not be prioritized.
5. Resistance to moisture
Moisture tends to penetrate into natural hardwood and may lead to discoloration. They are high maintenance and are usually preferred in dry areas which can be easily maintained. To make it more resistant to moisture, an additional protective coating can be given, but this has to be redone regularly to maintain the finish.
The synthetic vinyl is not porous and hence resistant to moisture. Climatic changes do not affect this flooring.
6. Installation cost
Installation of wooden flooring was a difficult affair in earlier days and used to add to the cost. Nowadays, wood comes in pre-cut pieces which has made the installation process slightly easier.
Vinyl flooring can be easily installed even over a preexisting flooring. Usually stuck down with an adhesive, vinyl flooring is then rolled with a machine for permanency.
Whatever be your choice of flooring, installation of it is a hard task and needs professional help. Vinyl flooring contractors are professionals who would help you install the vinyl flooring and makes your work easier!